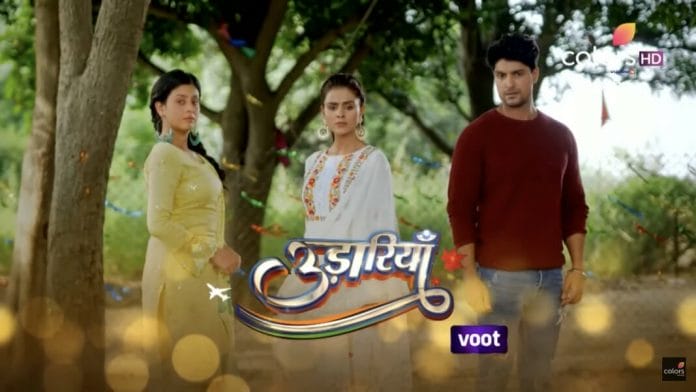 Udaariyaan 18th August 2022 Written Update on TellyExpress.com
The episode starts with Tejo confronting Jasmine for lying about her pregnancy. Tejo asks Jasmine from when she's lying. Jasmine confesses that she fell down the stairs when she went to the party and she suffered a miscarriage. Tejo refuses to cover Jasmine's lie this time and decides to expose her to the family. She leaves to call the family. Jasmine comes behind Tejo trying to stop her. Tejo slaps Jasmine and rebukes her for lying to the family. She aska why she's doing pregnancy drama when she is going to marry Yash and is going to Canada. Jasmine slaps Tejo. She says that Tejo and Fateh can never expose her.
Tejo gets determined to tell Jasmine's truth to the family while Jasmine tries to stop her. Tejo and Jasmine fight. Tejo pushes Jasmine. The latter takes a vase and hits Tejo on her head. Tejo faints. Jasmine says that Tejo can't win over her in this life. She takes the fake bump and the landline phone. She comes out of the house and throws them in a corner of the road. Jasmine calls Yash. The latter sees Jasmine calling him. He deliberately doesn't receive her calls and laughs. He says that he wants Jasmine to feel the fear and adds that Jasmine should pay for her sins. Jasmine scolds Yash when he doesn't answer her calls. She sees an autoricshaw coming her way. She stops it and gets into it. She asks the auto driver to go to the hospital.
Tejo gains her consciousness. She looks around for Jasmine. She then searches for her phone. She realizes that even landline is missing. She decides to inform Fateh before Jasmine can do anything. Meanwhile Jasmine phones Gurpreet from the hospital and lies that she got labor pain. She acts and screams in pain. She asks Gurpreet to come to the hospital immediately and makes a nurse tells the same to Gurpreet. Dadaji comes home and tells Tejo about Jasmine being admitted in the hospital for delivery. Tejo wonders how she can get labor pain when she's not pregnant. She decides to tell the truth to the family.
Tejo comes to the hospital. She sees family together and thinks that family learned about Jasmine's lie. Tejo gets shocked seeing Gurpreet holding a baby. Gurpreet says that Jasmine gave her the symbol of Amrik. She says that Jasmine gave birth to a baby girl. Nimmo says that baby's features don't match with Jasmine or Amrik. Just then doctor comes there and says that Jasmine had a C section as her delivery was complicated. She lost lot of blood, so she's still unconscious. Tejo wonders how it's all possible when Jasmine isn't pregnant.
Tejo tries to go into the ward in which Jasmine is. But the nurse stops her. Tejo thinks that Jasmine can do anything to hide her lie. Inside the ward Jasmine is doing her makeup. She says that she's going to travel in an international flight. She asks the doctor make her wear the coat. Doctor obliges. Jasmine says that finally her dream is going to realize. Jasmine gives money to the doctor. Outside Tejo understands that doctor and nurse are involved in Jasmine's drama else she won't be able to drag this drama so far. Tejo receives Fateh's call. Fateh expresses his joy for Jasmine giving birth to Amrik's child. Tejo tries to tell Fateh the truth, but due to signal issue Fateh doesn't hear anything.
Jasmine says to the doctor that no one should know about her and says that Tejo is smart and can find the truth. Doctor says that her plan is foolproof. Tejo confronts the doctor about helping Jasmine in her lie. She threatens to expose doctor. But the Doctor denies the allegations and threatens Tejo to get her arrested. Family comes and asks doctor about Jasmine. Doctor says that Jasmine is still critical and asks them to go home taking the baby. Tejo sees her family happy and feels sad for them. She thinks telling them the truth as soon as possible. Fateh comes to the hospital and starts playing with the baby. Tejo says to Fateh that she wants to talk to him. But Fateh is busy in playing with the baby. Tejo gets into the dilemma whether to tell family that this isn't Jasmine's baby or not.
The episode ends.
Precap: Tejo tells the Virks that Jasmine ran away leaving the letter. She reads the letter to the family. Later Tejo tells Fateh that this isn't Amrik's baby shocking Fateh.
Click to read