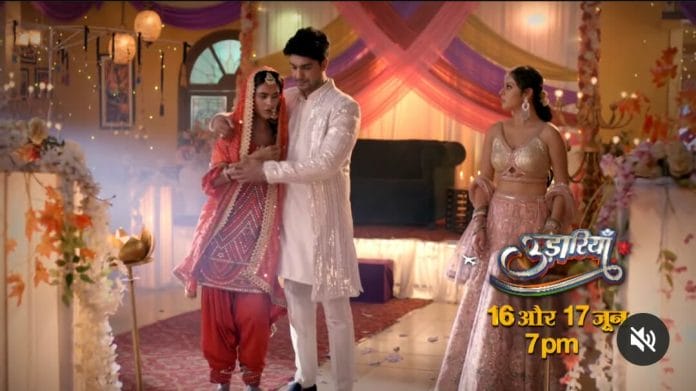 Udaariyaan 18th July 2022 Written Update on TellyExpress.com
The episode starts with Fateh returning home from the work. Tejo takes back from Fateh and makes him sit. Fateh asks Sandhus in sign where she's going. They sign him to be quiet. Other hand Gurpreet is praying in Gurudwara. Jasmine greets her and says that she's going to meet Yash parents.
Gurpreet asks Jasmine to meet them and adds that she will pray for Jasmine and her child shocking Jasmine. Here Tejo gives water for Tejo and asks how was his day. Fateh is surprised and says that his day was good. Tejo says that they made aloo matter at home and asks if he wants. Fateh says that later. Tejo asks Fateh to ask her something. Fateh asks what she did the whole day.
Tejo says that she waited for him. There Jasmine asks Gurpreet if she's fine. Gurpreet says that it's good if she accepts the fact. She says to Jasmine that she won't stop her from getting married as she failed to stop her own son. Here Tejo says to Fateh that she imitates what Satti did to Rupy. Fateh notices that Tejo didn't wear slippers and make her wear them. Tejo says that this should be done by wifes, not husbands. She gets upset. Fateh says that they're special couple. Tejo agrees and happily hugs him.
There Gurpreet says that Ruppy and Satti are supporting Fateh and Tejo and asks Jasmine to do what she wants in her life. She says that she can't lose Fateh to get Amrik's child. She blesses Jasmine and hopes that she won't keep her away from her grandchild shocking Jasmine. She leaves. Jasmine gets worried that Gurpreet may accept Tejo as her daughter-in-law. She gets determined to separate Fateh and Tejo.
Jasmine comes back home and sees Fateh and Tejo happily playing along with the family. She gets angry and leaves. Jasmine is shown walking on the road getting drenched in the rain. She recalls Fateh and Tejo coming home getting married. She smiles imagining herself with enjoying the rain. She then sees Fateh and Tejo. She gets angry and screams. She says that Fateh isn't her love, but her stubbornness and gets determined to get him at any cost.
Jasmine comes to the godown where Angad tried to kill Tejo. Jasmine says that Fateh can't become Tejo's until she's alive. She decides to bring Tejo to this place and tries to burn her again so that Fateh's love and the hope that Tejo recovers her memory will get destroyed. She says that after that Fateh has to give up, there will be only Fateh and Jasmine. The latter sees Fateh and Tejo sleeping holding the duppata's end. Jasmine thinks of breaking the bond between them soon.
The next day Jasmine puts up an emotional act in front of Satti. She cries and says that she doesn't care what others think about her, but she can't tolerate Tejo calling her evil sisters. She says that she's scared even her child won't get her aunt's love. Satti pacifies Jasmine and assures to clear the differences between her two daughters. She says that Tejo will definitely listen to her. She hugs Jasmine. The latter smirks that innocent Satti fell in her trap.
Tejo is wearing Fateh's shirt and imitates him. Satti comes to Tejo with Jasmine. Tejo asks why evil sister came. Satti says to Tejo to not say like that as she is her sister. She says that Tejo likes children. She makes Tejo touch Jasmine's stomach and says that there's a child inside Jasmine that God gave. Satti further says that the child will call Tejo as maasi. Jasmine talks like child and asks Tejo to play with her. Tejo smiles.
Satti says that they should take care of children and asks if she will take care of Jasmine child. Tejo agrees. Tejo states Fateh's words and says that she won't call Jasmine evil sister hereafter and will take care of her child. Jasmine says that she will also love her and take care of her. Tejo makes Jasmine sit. She gives Jasmine her toy to play.
In the night Fateh made noodles for Tejo. The latter says that they can have eat it sitting on the staircase. Tejo says that Fateh made noodles for her when he secretly came to meet her in her parents. Fateh is surprised that Tejo getting back her memories. Jasmine who is watching them also get shocked. Tejo says that they were already married then why they got married again. She says that she likes him so much and can marry him many times.
She says I love you and hugs him. Fateh gets happy that she's retrieving her memories and says that she will get well soon. Tejo says that she doesn't want to get well as she's scared that Fateh will stop loving her and take care. Fateh says that he won't change. Tejo asks to promise him and he does. Tejo says that they stay together for all their seven lives.
Family congrats Rupy and Satti on their wedding anniversary. Fateh leaves for work. Navraj leaves along with Fateh. Dilraj also leaves for work. Jasmine says that three people already left home. She says that she can't wait home and says that she has to do whatever she wants When Tejo is alone. She says that Tejo's game is over.
The episode ends.
Click to read