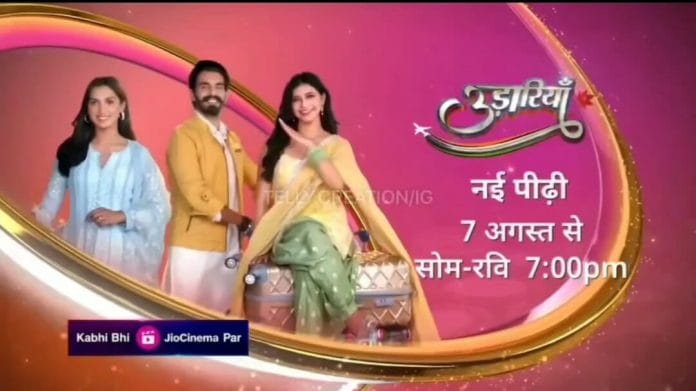 Udaariyaan 19th November 2023 Written Update on TellyExpress.com
The episode starts with Armaan hears a voice inside the truck which he is driving, so he stops to check what is happening. He gets shocked to find a few unconscious girls along with Alia there. He gets inside and asks Alia what happened. Alia gains her consciousness and tells Armaan that she went to get a job but learned later they are criminals who try to send them somewhere by inducing them in drugs. Armaan assures nothing will happen to her. He then worries about Aasmaa.
Aasmaa fights with the goons and tries to run away from their clutches. Here, Armaan brings the vehicle to a place where there are few goons awaiting. One of them questions, Armaan. Armaan asks the man to check on his own so one of the goon enters the truck and checks all the girls who have been pretending to be unconscious. Alia wakes up so the goons approach her, but soon the other girls beats up a few goons while Armaan fights with few other goons too. Alia uses that opportunity to send all the other girls and then rushes to Armaan. Armaan orders Alia to leave with other girls saying his work isn't done yet, but Alia refuses, which leads Armaan to shout at her. Meanwhile, Aasmaa realises she doesn't have a phone to contact Armaan. She hides herself before the goon catches her.
Armaan, in his mind, thinks that he should reach Aasmaa at any cost. He then reaches the place where few goons are already waiting. He demands them to return his wife to him safely when they proceed to check the girls inside the vehicle. One of the goon assures Armaan that his boss will fulfill his promise and then goes to check the truck. Armaan gets shocked seeing Alia there. The goons find the girls aren't in the truck. Armaan asks Alia to run away. He then takes her with him. He will send Alia the other side, but before he can leave, one of the goon shoots him. Meanwhile, Aasmaa's leg gets stuck inside bricks, which leads the goons to trap her. One of them hold her at gun point, but she outsmarts and snatches the pistol from him. She then threatens not to spare any of them and then escapes in a car.
There, goons hold an injured Armaan at gun point and demand him to tell them about Alia's whereabout. Armaan recalls asking Alia to go and hide the other side until he handles the goon. He tells goons if they let him talk to Aasmaa, then he will tell them about Alia's whereabout. One of the goon call Aasmaa's number but no one answers it. Aasmaa reaches where Armaan is. But she notices the truck with goons being tied up in it. She demands them about Armaan's whereabout. One of the goon shows her Alia's photo and tells that Armaan runs away with Alia, which shocks Aasmaa. She notices the wallet in which she saw bank receipt it states Armaan transferred 15 lakhs to Alia and wonders why Armaan did such thing. She then learns through the goon Armaan, and Alia goes inside the jungle, so she goes towards it.
Meanwhile, Armaan demands the goons about Aasmaa's whereabout and threatens to kill them by holding them all at gun point, but Alia stops him, saying he isn't a criminal. Here, Aasmaa wonders where Armaan is. At night, Armaan carries Alia in his arms and imagines it's Aasmaa, so he says he protects her at any cost. Alia also tells the same to Armaan. There, Aasmaa with an injured leg wonders where Armaan is.
Precap: Armaan brings Alia to a house and asks her to stay as he has to go and find Aasmaa, but Alia hugs him. Aasmaa enters the place and gets shocked.
Click to read