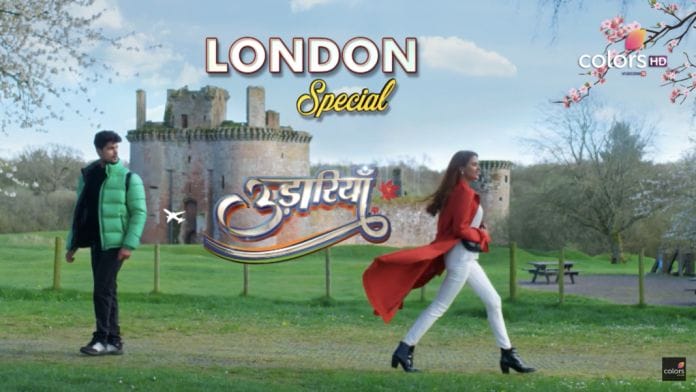 Udaariyaan 1st July 2022 Written Update on TellyExpress.com
The episode starts with Rupy shouting at Shiny for speaking against Tejo. Lovely calms Shiny down. Shiny calls Tejo again mental and asks her to send her mental hospital. Satti explains her Tejo's condition and the treatment she's getting. She says that they can't leave Tejo alone in this condition. Tejo asks starts hitting making noise by hitting the spoon on the plate and says to call Fateh. Satti takes Tejo inside. Shiny complaints that they have insulted them by calling home. Rupy asks them to get out. Lovely asks Rupy to stop. Rupy says that Lovely should support them instead of supporting the guests. The guests cancel the alliance and angrily leaves. Jasmine gets happy. Satti calls Fateh. He asks if everything is fine. Satti says that nothing is fine and asks him to come immediately.
Fateh reaches Sandhu's house and sees guests coming out followed by Lovely and Harman pleading with them. Fateh goes in. Shiny says to Lovely to send Tejo to the mental hospital if she wants to get Abhiraj married. Fateh comes to Tejo. The latter gets angry with Fateh for leaving her alone. Fateh apologizes to her and comforts her. Tejo faints. Fateh places on the bed. Fateh asks what happened, why Tejo is scared. Rupy says that the lights went off and they lighted candles. Fateh asks why thru lighted candles when they know she's scared of fire. He asks who took candle to Tejo.
Dilraj says Jasmine. Fateh condemns Jasmine for that. Satti says that she gave Jasmine emergency light. Jasmine lies that emergency light broke so she took candle as she's worried for Tejo and forgot about her fear for fire. Fateh shouts at Jasmine for forgetting such important things. Jasmine puts up an act and shows that she's concerned for Tejo. She says that she's also worried for Tejo like Fateh and pretends to angrily leave. Tejo gains her consciousness.
Lovely speaks against Tejo and says her to get admitted in the mental asylum. Fateh asks how they can say like that. Rupy and Satti argue. Fateh says them to not argue in front of Tejo. Abhiraj asks who is Fateh to speak in their family matter. Fateh says that caring Tejo is his matter. Fateh takes Tejo from there. Fateh and Tejo kiss each other forehead. Fateh makes her sit in the car and drive off.
Rupy reminds Abhiraj how he can think about his sister like this. Abhiraj says that Tejo needs treatment. Rupy says that she's getting treated and asks can't he give her time. Abhiraj asks how long it will take. In the car Fateh says to Tejo that they're going to his house. Teko gets excited. Here Rupy says that Tejo will stay in his house only. Lovely says that this house belongs to her and her children too, but it seems it became only Tejo's house, so she doesn't want to stay here.
Fateh and Tejo reach the Virks house. Fatrh says that she will come here after their wedding. Tejo gets overjoyed. They go in. Tejo says that their house is big and gets excited. Virks get emotional on seeing Tejo. They all introduce themselves to her. Tejo says that sisters are bad when Fateh says that Mahi is his sister. Fateh says that she's a good sister and loves her. Tejo touches her hand. Biji gives Tejo her favorite Laddu made by her. Tejo eats it and says that she already ate it. She asks what she should call her. Biji says to call her Biji. She kisses Tejo's forehead. Tejo asks if she can take another laddu. Biji says yes. Tejo happily takes it.
Fateh suggests playing carrom board. They all sit and play. Fateh asks Mahi about Gurpreet. Mahi says that she has gone to someone's house puja with Nimmo. Kushbeer is emotional seeing Tejo and sads that she doesn't remember anything. Fateh assures that she will remember slowly and asks him to play with her. Kushbeer obliges. There Jasmine and Satti ask Lovely to not leave home. Lovely says that either Tejo will stay here or her. Jasmine smiles secretly.
Fateh calls in the ashram. Kamal receives the call. He asks when and how many times Tejo got violent when she was staying in the ashram. She says that whenever she's unable to express her emotions. Fateh recalls recent incidents with Tejo and Jasmine being with her that time. He gets doubtful that Jasmine is responsible for Tejo's violent behavior.
The episode ends.
Precap: Tejo meets Gurpreet. Gurpreet gets emotional when Tejo hugs her. Fateh confronts Jasmine. He says that she's still the same Jasmine, she didn't changed, she is triggering Tejo. He warns her to not trigger Tejo again shocking Jasmine.
Click to read