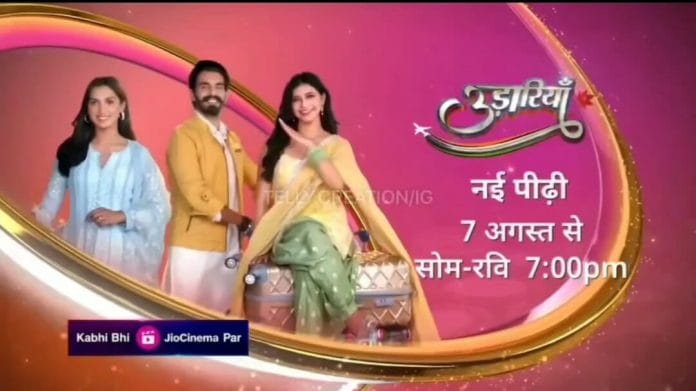 Udaariyaan 22nd November 2023 Written Update on TellyExpress.com
Episode starts with Ekam asking Armaan how his car tail light broke. He says that a rickshaw hit his car. Ekam says he will follow his car now. When Aasman and Armaan reach home, Aasman shivers and cries in his car. Armaan says that the body must remain in the car tonight and they would do the needful nex morning. As they reach home, Sukhi and others ask where they had been since everyone was tense. While having food, Raja spills the tomato soup and seeing the red colour, Aasman panics and gets up. Armaan manages the situation and takes him upstairs. Ekam says that he has informed his team and Kabir would be caught alive or dead soon.
Aasman takes Alia's name as she had seen Kabir and Alia talking to each other. She says that Alia must be knowing about Kabir's intentions. Kabir goes to play outside and sees the dead body in Armaan's car and screams. He screams and informs the entire family. Everyone goes out to check the car. Sukhi and Hobby open the dicky and see that there's just a rat trap there. It was Armaan who hurriedly removed the body. Aasman thought that they would see the body for a moment and was about to scream but Armaan handled the situation.
Armaan says to Rano that he is taking Aasman for a ride since she is very stressed. Both of them go out in their car and put Kabir's body in their car. Armaan finds a photo of Kabir shaking hands with someone. Since the photo is incomplete they leave for Kabir's place to find out the other half of the photo. Armaan and Aasman get inside Kabir's house secretly. As Armaan gets up on a tool to grab a photo, one of the guards asks if there's anyone inside the house. Ekam calls the guard so he leaves. Asmaan asks how long they are supposed to rhn from all this. Armaan says that the killer is trying to trap Aasman and she is falling in the trap.
Armaan calls Alia and says that due to her lies Aasman has left him so he wants to meet Alia right now. She says that since it's so late they must meet next morning. Armaan says that if she doesn't meet him now he would tell Ekam everything she did and also that some people were taking her away on a truck. Alia comes to meet Armaan. Armaan comes on his bike and asks her to sit on his bike. He drives the bike circularly and drops her at one time. He asks Alia what is her plan with Kabir. She says that she doesn't know anything about her. Aasman comes and spills water on her. She says that she would have asked Kabir herself but he is no more. Alia asks how this happened. Alia accuses Aasmaan and Armaan for Kabir's murder. Armaan says that all of them have equal amounts of motives to kill him so they must work together to get rid of this problem.
Episode ends.
Click to read