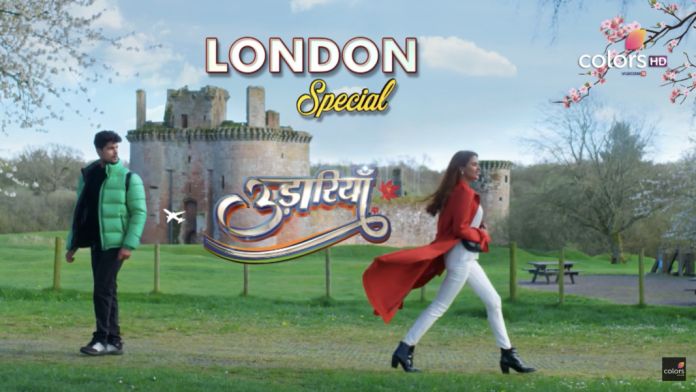 Udaariyaan 23rd June 2022 Written Update on TellyExpress.com
The episode starts with the football match begining. Fateh kicks the ball. Jasmine sees a man covering the match. She excuses herself to Tejo on the pretext of making a call. Jasmine phones Sweety and confirms if her brother is covering the football match. She says to sweety to tell her brother to give specially focus on Fateh and Tejo.
Fateh hits a goal. Virks are watching the match live and are cheering for Fateh. Gurpreet says to the family that Fateh went to the Sandhus house last night as Tejo got stubborn to meet him and now also he took Tejo with him for the match. She taunts saying that whether they have to see Fateh's match or Tejo's commotion. Kushbeer asks how she got to know this. Gurpreet says that from Jasmine when she called her last night to know about her health.
Fateh's opponent team player pushes Fateh and he falls down. Tejo gets worried about Fateh and is about to go to him, but stops herself remembering Fateh's words to not move from there. Jasmine and Tejo cheer for Fateh. Tejo gets angry when Jasmine says that Fateh is hers. She argues with Tejo. The staff notices this and wonders why Tejo is behaving weirdly.
Jasmine says to Tejo that she will get popcorn for her and leaves. Tejo gets a whistle front aa student and cheers for Fateh. The cameraman focuses the camera on her. Sandhus are watching match live. Satti gets worried how people will reacted knowing about Tejo's condition. Rupy says that they shouldn't worry about others and support Tejo. Rupy says that those who really loved her should accept her as she's. Jasmine meets the staffs and tells them about Tejo mental instability and Fateh looking after her everytime. They feel pity on Tejo.
Jasmine comes back to Tejo and gives her popcorn. Fateh comes to Tejo during the break. Tejo praises Fateh and gets excited to lift the trophy. Fateh says that the match isn't ended yet. He says to Tejo to stay here and goes back to his team. The match begins again after the pause. Jasmine deliberately angers Tejo by pushing her and saying that Fateh is hers. Tejo gets angry and shouts at her. The staffs see this. The Virks see this live. Gurpreet says to Kushbeer to make Fateh understand that he will only get insult by staying with Tejo. Kushbeer says that Fateh knows to make his own decision. Gurpreet gets worried about Fateh and laments. Nimmo says to Gurpreet that Fateh will have realization when he will face humiliation because of Tejo.
Jasmine signs the opponent player. He pushes Fateh down. Fateh gets injured. Jasmine provokes Tejo. She says that man is deliberately pushing Fateh down as he doesn't want Fateh to win. She says that Fateh is badly injured and asks Tejo to save Fateh and shows to all that no one can harm him when she's with him. Tejo says that she won't leave him. Tejo runs to the player who pushed Fateh. She slaps him. She pushes him down and hits him. All gets shocked on seeing this. Virks and Sandhus are also shocked witnessing this.
Fateh calms Tejo down by caressing her face. He says to Tejo that he is fine. A player calls Tejo insane. Fateh gets angry and hits that player. Jasmine gets happy on seeing this and says that Fateh will realize now what will be living with a mental. The principal scolds Fateh for ruining college name due to his personal problem. He says that he will face the consequences of losing the match. It's announced that Fateh's college loses the match due to Fateh's misbehavior.
Jasmine comes to Fateh and pretends that she doesn't know anything and asks why he came leaving the match in the middle. Fateh scolds Jasmine for leaving Tejo alone. Jasmine lies that she went to get ice cream for her and asks what happened. Fateh says that the match ended. The peon says to Fateh that the principal called him. Fateh says to Tejo to go with Jasmine. He comes to the principal. The college management scolds Fateh for his misbehavior. Here Jasmine says to Tejo that Fateh will be fired because of her act.
The episode ends.
Precap: Gurpreet says to Fateh that he should meet Tejo hereafter. Fateh refuses to accept her decision and says that Tejo is his life, so he goes to her shocking Gupreet and Kushbeer.
Click to read