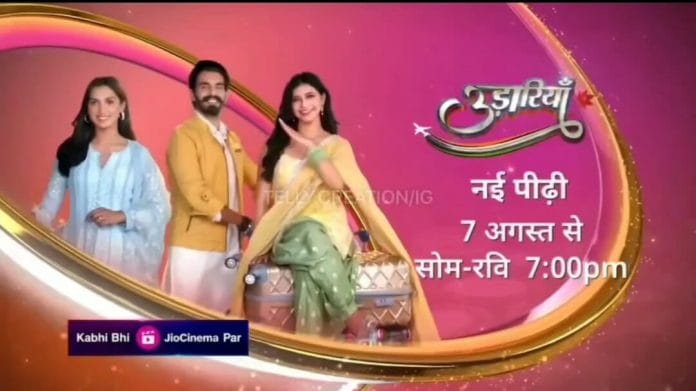 Udaariyaan 24th September 2023 Written Update on TellyExpress.com
The episode starts with Armaan telling Aasman that he has to go outside. Aasman checks Armaan's temperature and says that he has a high fever so he must take rest. He is actually worried about Alia. Aasman asks him to lie down and then gives him medicine. Aasman asks Armaan that she understands that he needs time but they can be friends. Aasman asks about Armaan's favourite movie .
He says that his favourite movie is Singham while Aasman says that she is Veer Zara. Aasman massages Armaan's feet. Armaan hallucinates and sees Alia in place of Aasman so he holds her hand and apologises to her. Suddenly the room telephone rings and Armaan's hallucination breaks. Aasman fights with the hotel manager for making Karha in the kitchen.
Armaan wakes up and finds Aasman sleeping beside his bed and wonders why is she doing so much for him. Suddenly Alia enters their room as a room service staff and wishes them morning. Aasman says that she didn't order for anything and she feels like she saw her somewhere. Alia drops juice in Aasman's dress on purpose. Aasman goes to the washroom while Alia fights with Armaan and warns him.
Aasman asks Armaan to sit down and puts the thermometer in his mouth. She says that he still has 103 fever so he must take rest now. She gives her another medicine. Alia leaves their rooming after burning with jealousy. She says to herself that if Armaan becomes Aasman's then she would have nothing left. Armaan wakes up after sometime and sees that Aasman is not in their room. He thinks Alia must have done something to her. So he goes to Alia and asks where is she. Alia says that she did nothing. Armaan says that he has to find Aasman because the goons are after them and he is responsible for Aasman's safety. He goes out of the hotel to look for Aasman. He sees Aasman and scold her. He says that he got scared of not finding her. Both of them start fighting like kids again.
Armaan gets a call from Alia and finds ber standing at the roof edge. Armaan runs to save her. Aasman also runs to save her . Armaan asks Alia to get down while she fights with him and says that he has driven her crazy. Armaan sees Aasman arriving so he puts on a hoodie and runs away. Aasman sees Alia and asks what is she doing here. Alia lies to her and says that it was Sooraj who doesn't speak to her. Aasman calms down Alia and tries to console her.
Episode ends .
Click to read