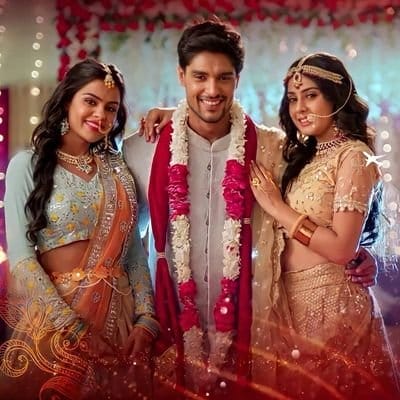 Udaariyaan 25th June 2022 Written Update on TellyExpress.com
The episode starts with Jasmine angrily coming to her room. She sees the wedding cards. She recalls Tejo tearing up them. She tears them up. She takes out her bridal clothes from the cupboard. She recalls Sweety's words. She throws it. She says that she would have got married to Fateh if insane Tejo hadn't come. She says that no matter what Fateh has to marry her. She takes out the scissors and looks angrily. She tears her bridal clothes. Other side Fateh and Tejo having moment. Tejo wants to spend the night on the terrace under the stars.
Lovely knocks at Jasmine's room door. She says that she brought food and asks to open the door. Jasmine hides the torn clothes. She opens the door and pretends to be sad with all the happenings. She says to Lovely that she didn't want to come between Fateh and Tejo. She will brought up her child alone. Lovely says that Jasmine can't do it alone and her parents should understand this first so that Fateh can understand this. In the night Fateh and Tejo are on the terrace looking at the stars.
The morning Tejo looks for Fateh. Fateh areives and says that Satti made pakode for her. Tejo gets excited on hearing this. Jasmine fumes kn seeing Fateh and Tejo happy. Jasmine begins to leave. Satti stops her and asks to have breakfast. Jasmine says that she's not hungry and she's going to mall with Sweety. Satti sags that she will pack her food. But Jasmine leaves. Satti and Rupy discuss about Jasmine. She says that Jasmine is angry, so left without having food and gets worried that Jasmine will change like before. Rupy says that he assured Jasmine that he will always support her. Tejo calls out Satti to serve her food. Satti gets happy when Tejo touches her hand. Satti phones Sweety and asks her to feed something to Jasmine as she left without having breakfast. Fateh says to Rupy that he is taking Tejo to a psychiatrist.
Jasmine meets Sweety. The latter asks Jasmine why she didn't have breakfast and says about Satti calling her. Jasmine gets happy on hearing this. She says to leave all this and asks if she booked tickets for movie. Sweety says yes. Jasmine says to let go to the mall and first have food then they will watch movie.
Fateh and Tejo are flying kite. Jasmine returns home. Satti asks Jasmine if she wants to have anything. Jasmine says that she doesn't want anything as she is having headache. Satti asks where she has gone. Jasmine says that she went to mall with Sweety. Jasmine sees Fateh and Tejo flying kite and gets furious. She reacts angrily when Satti asks if she had any food in the mall. Satti says that she will do head massage for her. Jasmine says that this time Tejo needs them more than her and leaves.
Later Jasmine comes to the hall and angrily look at Tejo and Fateh flying kite. She sees her brother coming. She pretends to faint. Family gets worried about Jasmine. Lovely taunts all saying that they all only look after Tejo leaving Jasmine, who is pregnant. Just then Sweety comes home and lies that Jasmine didn't have food from last night as a part of Jasmine's plan. Satti says that she gave food to Jasmine last night. Tejo says that Jasmine is a liar. Fateh says to not say like that. Lovely shows the food in the dustbin and says that Jasmine didn't have food last night. All gets worried. Jasmine thinks that Tejo won't be able to keep Fateh away from her now.
The episode ends.
Precap: Gurpreet scolds Sandhus and asks why they don't lock up Tejo in a room. Tejo and Fateh are playing. Jasmine says that she won't let Tejo get well, then Fateh will give up and will come to her.
Click to read