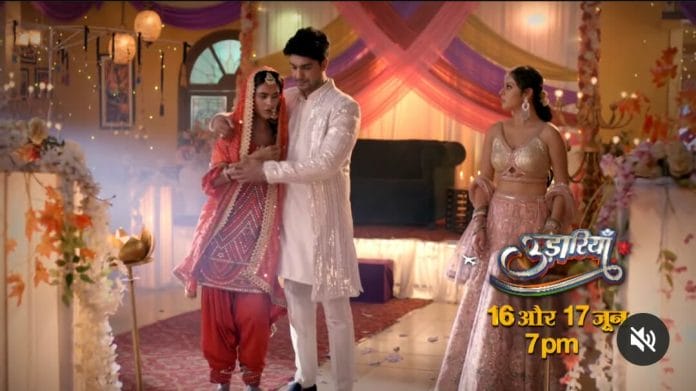 Udaariyaan 27th July 2022 Written Update on TellyExpress.com
The episode starts with Satti feeding curd and sugar to Tejo and saying that her principal and students are waiting for her. Just then Deepti comes there and confirms the same. Rupy says to Tejo that Deepti explained to principal everything, so she doesn't need to worry. Rupy and Dadi encourage Tejo to have a new start. Tejo says to Deepti that she will come in her scooty. Lovely says that Jasmine's phone is switched off. Lovely says that she left her phone charger at home. She further says that she will go to Lovely's house to bring Jasmine back home.
The man finds Jasmine sleeping in his car. He wakes her up and scolds her for sleeping in his car. Jasmine criticizes his car's condition and argues with him. He says that he will call police. Jasmine gets scared and runs from there. At the Virks Candy gives Fateh a gift parcel to open. Fateh opens it. Candy gets happy finding his favorite game. Simran asks who has sent this. Mayi says that Buzzo must have ordered it online as Candy wanted to buy this when they had gone the other day for the market. A mysterious person phones Simran and claims of sending that gift to Candy. Simran questions him about his identity and how he is aware of Candy's preferences. Simran gets worried finding his voice familiar. She calls Buzzo to tell him about this. Buzzo says that he is buzy now and will talk to her when he will reach home.
Jasmine is sitting in Dhabba. Tejo is on the way to her college. Her bike breaks down. Tejo wonders what happened. In the Dabba the man tells the available dishes to Jasmine. The latter scolds him and sends him away. Jasmine laments. She is hungry, but doesn't have money to pay the food. Jasmine thinks of calling Satti, but her phone is dead. Jasmine orders only water and drinks it. She tries to steal snacks and runs away, but she gets caught red handed by the staff. The staff accuses Jasmine of theft and asks to call police. Jasmine tears her clothes and threatens to complain against them for misbehaving with her. She takes some snacks and runs from there. Jasmine fails to see Tejo and runs other side.
The goons who tried to kidnap Tejo pretending to be Fateh's friends, spot Tejo. They come to Tejo and say that they're Fateh's friends and last time she herself sat in their car. They try to kidnap Tejo. Tejo hits them and shouts for help. A police car comes that side. The police team catches the kidnappers. Tejo recalls their words and wonders what would happened. Later Tejo gets shocked knowing from Rupy what had happened with her last time. Rupy says that last time Fateh saved her, but this time Tejo herself saved her. Just then Satti comes back crying and says that Jasmine isn't at Sweety's house. Rupy gets worried and regrets of sending Jasmine there in this condition. Tejo asks what they mean, what happened to Jasmine. Lovely says that Jasmine is pregnant with Amrik's child.
Elsewhere Jasmine is walking on the road with difficulty. Kids trouble Jasmine calling her insane. Jasmine recalls making kids call Tejo insane. Jasmine shouts at the kids and sends them away. Here Tejo gets happy learning about Jasmine's pregnancy. She asks why they hid it from her. Rupy says that it's because Tejo lost her baby. Tejo regrets that Jasmine has to suffer in this condition because of her. She goes to find Jasmine. Satti gets worried that Jasmine will tell Tejo about Jasmine and Fateh's wedding decision.
Tejo finds Jasmine. She hugs her crying. She says that she just to know about her pregnancy. She apologizes to Jasmine for misunderstanding her and says that their parents cleared her misunderstanding. She hugs Jasmine feeling guilty. Jasmine gets happy and thinks of using innocent Tejo to fulfill her intention.
The episode ends.
No Precap
Click to read