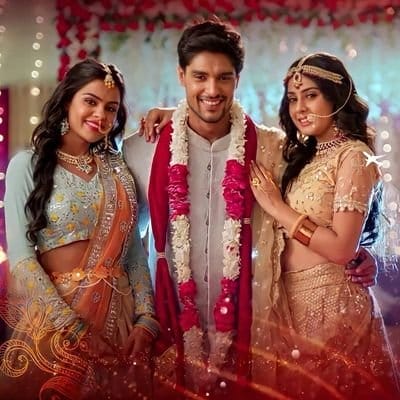 Udaariyaan 27th May 2022 Written Update on TellyExpress.com
The episode starts with Tanya realising that Jasmine is acting. She thinks that she cares only about her child and he/she gets father's love. Tanya assures Jasmine that family will support her and says her to keep the child. Jasmine asks if they can give her child a father. Tanya wonders why Fateh is still quiet. Jasmine agrees to keep the baby, but asks the Virks to promise that they will get a father for her child. She says to Gurpreet to promise the same. Gurpreet cries. Jasmine says that their silent is the proof that they only want Amrik's child, not her. Jasmine runs from there. Biji faints. Family holds her and makes her sit on the couch.
Jasmine and Tanya return home. Tanya calls out Jasmine and goes after her. Satti and Lovely see this and wonder what happened. Jasmine locks herself in and smiles. Tanya says to Jasmine to open the door. Satti asks Tanya what happened. Tanya says that it's about Jasmine's personal matter, only she can tell her. Other side Gurpreet assures Biji that they won't let anything happen to Amrik's child. Here Jasmine is glad that Tanya acted very well. She says that she knows that Tanya can do anything for kids and she used it. She says that Tanya is emotional like Tejo. Tanya and Satti ask Jasmine to open the door. Jasmine hopes that Tanya will keep acting well till all decide to get Fateh married to her. Fateh tries to call Tanya and wonders why she's not answering it. Dada ji assures Biji that Gurpreet has gone to talk to Jasmine, so nothing will happen to Amrik's child. Biji says that she wants Amrik's child safe. Fateh hears this.
Rupy says to Satti that Gurpreet has come and asks what they all doing here. Satti says that Jasmine locked herself in and refuses to open the door. Dada ji says to Fateh that he also wants to talk to Jasmine. Fateh says that Gurpreet has gone to talk and Rupy and Satti will support Gurpreet after knowing the matter. Dada ji says that he doesn't think that Jasmine will get convinced and asks what if Jasmine does anything out of anger, Biji won't be able to bear it. Fateh assures him that she won't do anything like that. Fateh says that he will do anything to get his brother back. He hopes that by now Gurpreet would have told everything to Sandhus.
Meanwhile Gurpreet says to Sandhus that Jasmine is pregnant with Amrik's child, but she doesn't want to give birth to that child shocking all. Tanya says to Jasmine to open the door as she's alone. Jasmine opens the door and praises Tanya's acting and plotting. Tanya says that she's not plotting, but just trying to give the baby his/her rights. She taunts Jasmine that no one can beat Jasmine in acting and plotting. Jasmine says to Tanya to put an act in front of family so that they all do what she wants. She sends Tanya downstairs.
Gurpreet cries and pleads with Rupy and Satti to convince Jasmine to keep the child. Tanya gets water for Gurpreet. The latter asks Tanya if she talked to Jasmine and convinced her. Tanya says that she talked to Jasmine and she think her condition is right. Tanya says that Jasmine has the right to think about the child's father before giving birth to it. She says that it's not easy to bring up a child without father's love. She says a fatherless child's upbringing will be incomplete and he/she won't be able to face the world with confident. She further says that no one can fill a father's place in a child's life. Gurpreet agrees with Tanya and assures to find a solution. She requests Tanya to make sure that Jasmine doesn't do anything wrong with her child till that. Gurpreet leaves. Tanya remembers Jasmine's words and thinks that they all really follow Tejo's words blindly.
Jasmine receives Tanya's message that her work is done. Jasmine gets glad reading this. Jasmine thinks that her child will be the return ticket of her life. Rupy knocks at the door. Jasmine puts water on her eyes and opens the door. She says to Rupy that she doesn't want to hear anything and says him to leave. Rupy says that he support her, Teko made him understand that she's right. Rupy says that he isn't angry with Jasmine, but happy that she became very responsible. He hugs her. Tanya hears this standing outside and smiles. Rupy says to Jasmine to not take any decision in hurry which will she regret later. Jasmine composes herself and thinks that Tanya has to keep doing as she wants till she gets Fateh.
The episode ends.
Click to read