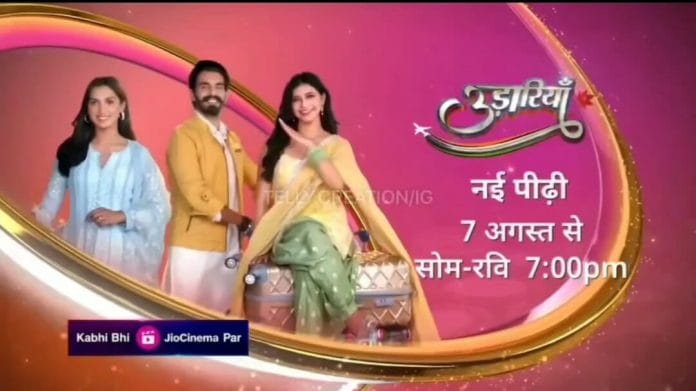 Udaariyaan 27th September 2023 Written Update on TellyExpress.com
The episode starts with Beeji asking Aasman to swear to Matarani that she would never leave for Canada with Armaan. Aasman says that she promises to always keep his family united and never do anything against the family. She says she has always waited for such family and relationships and now that she has them she won't ever lose them. Beeji asks her not to get her wrong . Aasman says that her and Armaan's dreams can never be very different from their family's. Armaan and Aasman start arguing again on lame issues. Armaan talks to Alia over the phone who informs him that there's a puja at their home . Armaan asks her how she knows about the puja. Alia says that she has a friend of hers at Armaan's house. She talks about Aasman.
Aasman asks Armaan to pay a visit to Alia and help her since Sooraj has been bothering her. Armaan says that if she needs help, she must ask help from his father since he is the SP and not Armaan. Aasman says that it's okay she will go and help herself. Armaan asks her not to do it and neither he nor Aasman would visit her since they have a puja at their place. Aasman says that there's no other worship than helping someone. Armaan loses the argument and leaves to meet Alia. Before Armaan leaves, Baby taunts Armaan for not doing any work. He feels bad but doesn't say anything. He meets Alia and tells her about it. He tells Alia that Aasman and Alia have been playing with him like a damru . They keep on tossing him.
Baby asks how would she do the ritual without Armaan's help since he is supposed to lift the kalash while she is supposed to tie the dhaga around the pious tree. Aasman says that sometimes in life, people have to take responsibility for two people together. Baby asks her to fulfil the ritual while she will be back after meeting panditji. Aasma lifts the kalash and starts doing the parikrama of the tree while tying the knot around the tree with another hand. Alia asks Armaan to go watch a movie with her. Armaan refuses at first but then Alia convinces him. Armaan and Alia ride his bike while Armaan sees Aasman doing the rounds of the tree while looking very tired and almost about to faint.
Armaan stops the bike, gets off from it and runs towards Aasman despite Alia asking him not to leave. Armaan saves Aasman from falling then lifts her up in her arms and helps her complete the rest of the rasam. Then she puts her down and feeds her some water from the nearby tubewell from his own hands. Alia stands behind a tree and watches them and fumes!
Armaan brings Aasman home in his arms. Rano and others qsk what's wrong with Aasman. Armaan says that they are responsible for Aasman's condition since they asked her to do 108 rounds of the tree in this scorching heat. Rano asks Baby why she did this. She gives excuses and tries to justify herself while Armaan shouts at her. Later she taunts him for not doing any work again. Aasman decides to make Armaan so able that no one would be able to talk to him like this. Episode ends.
Recap : Alia asks Armaan to tell Aasman the truth since she got to know that Aasman has no plan to go to Canada!
Click to read