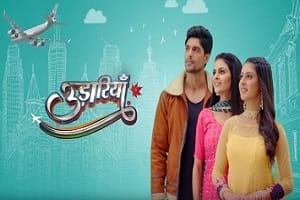 Udaariyaan 28th May 2022 Written Update on TellyExpress.com
The episode starts with Rupy to not take any wrong step in hurry. Jasmine thinks of not getting emotional as it's due to Tejo's power, but it's fine and thinks that Tanya did a good job. Lovely says to Dadi that Tejo seems changed so she supported Jasmine to abort her child. She says that Tejo is possessed. Dadi doesn't take her words seriously. Lovely thinks of solving this problem by herself. Tanya cries holding a box and toys. She remembers her childhood. A FB shows of small Tanya crying getting disappointed as her dad didn't come to her birthday. Tanya says that this family loves her thinking she's Tejo, they will hate her once the truth will come out. She hopes Gurpreet will understand the importance of father to a child.
Gurpreet is talking to Amrik's photo and wonders how to get a father for his child. She sees Fateh's reflection on Amrik's photo. Fateh asks Gurpreet what happened at the Sandhus. Gurpreet says that Tejo was right, a child needs both father and mother. Fateh asks if Tejo told her this. Gurpreet nods yes. She requests Fateh to marry Tejo so that Amrik's child can get father and mother's love and Jasmine will also stay here. Fateh says that it's not possible as Tejo didn't come out of the shock yet. Fateh adds that Jasmine won't give her child to them. Gurpreet worries that Jasmine will abort her child. Fateh comforts Gurpreet and assures her that he will talk to Jasmine.
Fateh comes to Jasmine to talk. Jasmine asks Fateh if Gurpreet sent him to talk. Fateh says that he has come by himself as she needs family right now. He says that she's not alone. Jasmine asks who is with her, she can't see anyone. Tanya comes and asks Fateh to answer Jasmine's question. Fateh asks Tanya whom she's to question them. He says her to do only the work for which she gets paid. Tanya says that she has come to make his family's life easy, so she is doing her work only. Fateh says to Tanya to shut up as he can't tolerate her nonsense anymore. Tanya says that Jasmine told her everything about them.
Fateh gets angry with Jasmine that she told Tanya, an outsider, about their personal matter. Jasmine says that they have to tell her as they have brought her as Tejo. Tanya says that if she hadn't told, she wouldn't have understood why his family hates Jasmine. Fateh shuts Tanya's mouth and asks Jasmine if she's not playing any game again. Tanya gets worried that Fateh found it. Fateh asks why Tanya is supporting Jasmine so much and asks Jasmine to answer. Jasmine shouts that Fateh promised Amrik that he will look after her, but he is doubting her. Jasmine says that he doesn't need Fateh's care and says him to leave her alone. Fateh apologizes to Jasmine. He asks what is the need for Tanya, who doesn't know what family, is, to interfere in their family matter.
Tanya taunts Fateh and argues with him. The latter blames Tanya for Amrik's death and insults her saying that she doesn't have any family. Tanya gets teary eyes and slaps Fateh. She refuses to continue to pretend as Tejo and leaves from there. Jasmine says to Fateh to stop Tanya. But Fateh refuses. Jasmine asks Fateh will he tell to his family, if he will tell the truth. Fateh says that she won't leave as she needs money. He says that they allow her entry in their house, not in their life to interfere in their family matters. Jasmine says that Fateh also crossed limits by talking about her family. She says that they can't afford to lose her and asks Fateh to convince her. As Fateh doesn't respond Jasmine goes after Tanya to stop her. Fateh stops Jasmine and says that he will convince her.
Fateh holds Tanya. She falls and he catches her. Fateh thinks that he can't hate this even if he wants. Tanya pushes Fateh and says to not come after him as the deal is over now. Tanya walks away. Jasmine calls out Tanya. She asks Fateh why he is standing like statue and why he didn't stop her. Fateh wonders what happened to him. Tanya is packing her luggage. Jasmine comes to Tanya and apologizes to her on Fateh's behalf. Tanya says that Fateh is acting rudely ever since she has came here. She says that it's not her mistake if she's not Tejo, she doesn't either want to become Tejo. Jasmine says that Fateh is short tempered. Tanya says that she can't hear their tantrums just because they are giving her money, they bought her helplessness, but not her self respect.
Tanya says that she also have emotions and feelings for family. She cries remembering kids mocking her that she doesn't have dad. Jasmine thinks that Tanya is emotional and that will give her a place in Fateh's life. Jasmine says that she is pregnant and she can't think of hurting Tanya. She says that she thought Tanya will help her and be by her side as Amrik left her and Fateh doesn't support her. Tanya agrees to stay back. Jasmine gets glad and hugs Tanya. Jasmine assures to pay Tanya her the double if Fateh insults her again. Tanya thinks that she was crying just before and now valuing her emotions with money and wonders if she's not doing wrong by helping her.
The episode ends.
Click to read