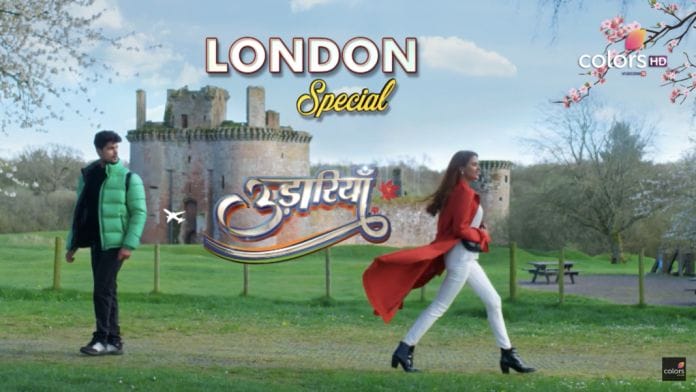 Udaariyaan 2nd June 2022 Written Update on TellyExpress.com
The episode starts with Tanya apologizing to Fateh. She says that she wouldn't have wore Tejo's suit if she had gotten to know that it will hurt him. She promises to never wear Tejo's dress. Fateh leaves. Tejo lies that milk fell on the dress and goes to change it. Satti comes to Tejo's room and knocks at the door. Tanya realizes that she doesn't have lens and looks for them. Tanya says that Tejo's eyes are black and hers are brown. SShe doesn't find the lens and onders what to do. Satti comes in and laughs seeing Tanya wearing sun glasses inside the house. She tries to remove them, but Tanya lies that she has eye infection. Satti gets worried and wants to tell the family to which Tanya reacts angrily which surprises Satti. Tanya apologizes to Satti for that. The latter says that she is acting weird ever since she returned from London and asks if it's not due to Fateh. Tanya gets nervous.
Fateh is shown driving his jeep. He stops it and gets sad remembering Tejo. Other side Tejo is shown walking. Tanya lays on the bed saying to Satti to get eye drops for her through her brother. Satti prays to God for her children.
Jasmine phones Fateh. She pretends that she wanted to call his family, but called him by mistake. Fateh asks where she is and says that he went to her house with the laddu gave by Gurpreet for her. Jasmine says that she has come to their family doctor and disconnects the call. Jasmine says that this is enough to make Fateh come here. She decides to go in when Fateh will reach here. There Fateh wonders why Jasmine has gone to the hospital again. He remembers Jasmine's words and rushes to the hospital.
Tanya looks at Tejo's photo and says that she's lucky to get such a loving family. She says sorry for talking rudely to her mom. She says that she got habit of their love and she's scared that they will hate after knowing the truth. Satti shares with Lovely that Tejo is wearing sun glasses inside the house. Lovely says that she alerted them, but they didn't believe her. Satti says her to not talk rubbish.
In the hospital Jasmine says to the doctor that she wants to abort her child as she can raise her child being a single parent. She requests to not tell Gurpreet about this as she doesn't want to give her tension. Fateh is shocked on hearing this. He receives Tanya's call and goes apart to talk. In the meantime Jasmine says to the doctor to write vitamin tablets for the healthy growth of her baby. Tanya says to Fateh to get her lenses as she lost them. Fateh gets irritated in the beginning, but agrees to get it.
Fateh comes back home sad. Gurpreet sees him and asks what happened. Fateh says nothing. Gurpreet says that he doesn't share with her anything nowadays and asks if he shared at least with Tejo. In the asylum Tejo is doing head massage to the girl. She says that she used to do it to Fateh. Here Fateh says that he is talking to Tejo regularly, but he doesn't know if Tejo can hear him from the other world. He shouts Tejo. Fateh does his head massage and remembers Tejo doing his head massage and their romance. Fateh says that he misses her so much.
Gurpreet and Biji are in the kitchen. Gurpreet is making special food for Jasmine. They discuss about Jasmine. Biji asks if Jasmine is taking good care of her child. Fateh hears this. Other side Jasmine is irritated of sickness due to pregnancy. She calms down herself saying that this child will help to unite her with Fateh. Here Fateh assures Gurpreet that Jasmine is taking good care of her child, she visited doctor previous day. There Jasmine wonders why Fateh's family is taking time to decide. Here Virks discuss about Jasmine's condition and wonders how to find a match for her. Gurpreet says to Fateh to think about marrying Tejo. Fateh reacts angrily. Jasmine comes to Tanya. She pretends to have morning sickness. She urges Tanya to do her work soon. She says that she wants Fateh to be her child's father at any cost.
The episode ends.
Precap: Jasmine says to Tanya that thry have only one day. Jasmine falls from the steps and gets hospitalized. Family asks doctor about her child and looks on shocked.
Click to read