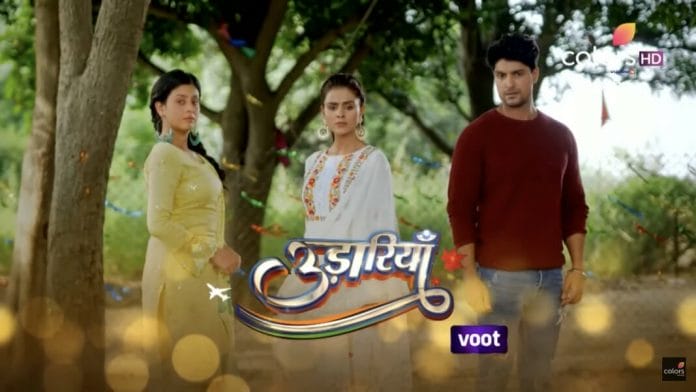 Udaariyaan 30th August 2022 Written Update on TellyExpress.com
The episode starts with Ekam and Nehmat fighting. The sports teacher stops their fight. Ekam and Nehmat blame each other. The teacher asks both of them to apologize. They apologize to each other in front of the teacher. They start to fight again once the teacher left. Mallika stops their fight and says to Nehmat that Ekam is her brother and she says to Ekam that Nehmat is her best friend. She asks how they can play together if tthey both ight in their first meet. Nehmat and Ekam refuse to play with each other. Nehmat angrily leaves. Mallika goes after Nehmat to convince her.
Naaz asks Jasmine if they won't go back to her evil father and grandmother who tortured them. Jasmine cries remembering how Yash's mother tortured her and Nazz. Jasmine assures Naaz that they will stay here only. She asks her to have paratha. At the Sandhus' house, Shelly gets irritated knowing that Tejo has come as they all will start pampering her. Tejo is busy talking with Dadi. Satti overhears Rupy talking over phone about getting a house for someone. Satti argues with Rupy asking if he starts to have an affair. Rupy gets angry and shouts at her. Tejo asks what happened. Rupy says that he was helping a girl who is like a daughter for him, but satti is doubting him of having an affair. Satti says that he should have told her this. Rupy cries thinking that he can't tell them about Jasmine. There Jasmine assures Naaz that she will enroll her in a school.
At the school, Ekam gives a waterproof bandage to Nehmat for her wound. Mallika is surprised that Ekam gave Nehmat waterproof bandage when he never gave it to her. Jasmine comes to that school along with Naaz. Jasmine leaves to see the principal leaving Naaz. The latter gets pushed and falls down. Nehmat helps Naaz to get up. She sees that Naaz is hurt and applies the waterproof bandage that Ekam gave her. Nehmat leaves. Jasmine finds Naaz hurt and asks who gave her bandage. Naaz shows Nehmat and says that she gave this despite of not knowing her. Jasmine says that her parents must have given her good values. Tejo comes to the school. Nehmat hugs Tejo. Jasmine misses to see them as the gaurd calls out to her. Tejo gets worried seeing Nehmat's wound and asks how she got hurt. Nehmat says that she didn't fight and fell. Tejo understands that Nehmat fought and questions her. Nehmat admits that she fought with Ekam, who is Mallika's brother. Nehmat says that she doesn't want a brother, but only sister.
Naaz likes the school urges Jasmine to enroll her in that school. But Jasmine says that the fees is high. Tejo leaves taking Nehmat. Jasmine hides with Naaz hearing Tejo's voice. Jasmine sees Tejo and Nehmat driving off. Jasmine doesn't approach Tejo remembering Rupy's words.
At the Virks Nehmat practices boxing with Kushbeer. Nehmat punches Kushbeer and he falls down. Kushbeer suggests playing cricket. Nehmat and the family happily play cricket. Jasmine watches this standing at the gate's entrance. Jasmine imagines Naaz playing cricket with them. She wishes that Naaz could also get a family. She says that Naaz is getting punished for her sins. She says that Naaz deserves to be with her family. She thinks that Naaz can never go on wrong path if she gets Tejo's guidance. Therefore she decides to enroll Naaz in Nehmat's school at any cost.
Jasmine makes Naaz ready for the school. Naaz is excited to study in that big school. Jasmine says to Naaz to study well. Jasmine gives money to Naaz and asks to get bread to make sandwich for her. Naaz agrees and leaves. Rupy, who has come to Jasmine's house, sees Naaz. He recognizes that Naaz is wearing the same uniform that Nehmat wears and underetands that Jasmine enrolled Naaz in Nehmat's school. Rupy confronts Jasmine about getting Naaz admission in Nehmat's school. Jasmine asks who is Nehmat. Rupy says that the baby that Jasmine abandoned and Tejo and Fateh adopted as their daughter. Jasmine is shocked to hear this. Rupy warns Jasmine to stay away from Tejo, Fateh and them. He firmly says that Naaz won't study in Nehmat's school.
The episode ends.
Precap: Tejo says to Fateh that she's worried about Jasmine returning and claiming her rights on Nehmat. Shelly says to Satti that she saw Jasmine. Rupy gets nervous. Naaz introduces Nehmat to Jasmine as her friend. Jasmine looks on at Nehmat.
Click to read