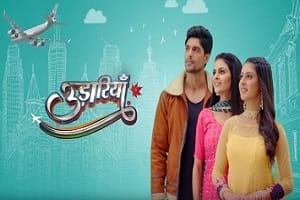 Udaariyaan 30th May 2022 Written Update on TellyExpress.com
The episode starts with Jasmine saying to Tanya that life is running due to money and asking Tanya how much she wants for Fateh's mistake. Tanya says that she wants 10 lakhs and she wants 5 lakhs immediately which shocks Jasmine. Jasmine agrees to give the money and apologizes for Tanya for what happened. Jasmine comes to Fateh and scolds him for fighting with Tanya and says that she convinced her with lot of efforts and says to not fight with her again as she's not Tejo.
Fateh reacts angrily, but agrees. Jasmine begins to leave, but Fateh stops her and says that he has come to talk to her. Jasmine says that she knows he has come to convince her to keep her child. Jasmine further says that her child is very important for her, she has changed and become responsible after knowing her pregnancy. She says that she will do what's good for her and her child.
Fateh says that he knew the pain of losing the child and requests to not take any step which she will regret later. Fateh assures that he will be by her side nad look after her child. Jasmine asks with which right he will take care of her child to which Fateh says that it's his brother's child. Jasmine asks he can drop the child till the school, but whose name he will write in the father's column of the school form, She asks if he will write his name. Fateh shouts Jasmine.
Jasmine says that a child can have many relation, but they can't become child's father and. Fateh says to Jasmine that he will find a life partner for her. Jasmine asks why he can't marry her. Fateh says that it's not possible. Jasmine asks why not possible, why he can't become her child's father instead of searching in the whole world. Fateh remains silent. Jasmine says that when he doesn't want to become father of his own brother's child then why someone else will agree. Fateh says to Jasmine to think with maturity like Tejo.
Jasmine says to Fateh to stop talking about Tejo as she's no more. Jasmine says that she's not mature like Tejo, she is practical. She wants a father for her child else she won't give birth to this child. She says that if Fateh can't decide, she will decide for herself. She walks from there.
Tanya asks Jasmine where she has gone. Jasmine says that she went to make Fateh understand and says that he won't misbehave hereafter. Tanya says that after seeing Fateh's attitude she doesn't think that he will agree to marry her. But Jasmine is confident that he will. In the night Fateh is unable to sleep remembering Jasmine's words.
Other side Jasmine gives money to Tanya and says that she gave her what she wanted and says her to do what she wants. She reminds that Fateh should be become her child's father at any cost. Tanya phones someone secretly and says that she got money she's coming the next day with money. Tanya thinks that if this work is done, she won't pretend as Tejo anymore.
Fateh is sad remembering Tejo and asks why he left her. Elsewhere in Barnala a mentally unstable Tejo is shown writing Fateh's name on the floor. Tanya takes the money given Jasmine and gets ready to leave. She thinks that thankfully no one stopped her and wondered if they don't get tired showering love. Rupy calls out Tejo and asks where she is going. Tanya says that she's going to the college. Rupy that today college is leave.
Tanya says that she's going to the library and leaves. Rupy wonders why Tejo seems changed. Tanya comes to the bus stand and sits in the bus which goes to Barnala. Lovely sees this and wonders why Tejo goes to Barnala. Tejo complaints to a girl that the kid took her toy. She then shows to the girl Fateh's name that she wrote.
The girl asks who he is, why she's writing his name again and again. She says to Tejo to remember. Tejo tries to remember and says that he is her best friend and her groom. Tejo says that her groom will come and takes her from here. Meanwhile Jasmine gets ready as bride.
The episode ends.
Click to read: