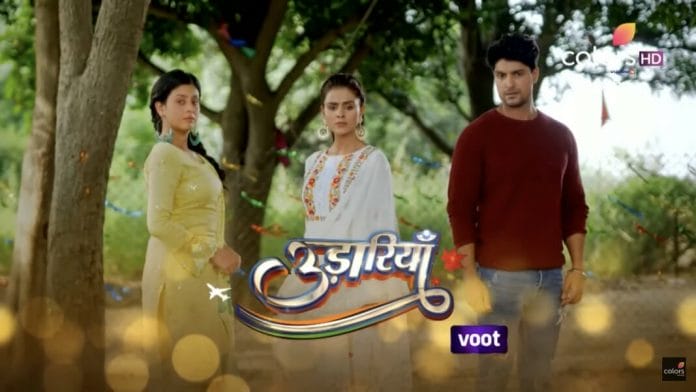 Udaariyaan 31st August 2022 Written Update on TellyExpress.com
The episode starts with Tejo making a video call to Fateh and showing an angry Nehmat. The latter is angry with Fateh as he said that he would return in two days, but he didn't return. Fateh assures Nehmat that he will soon come. He convinces Nehmat to have breakfast and go to school. Fateh says that he misses Nehmat and Tejo and asks Tejo for a kiss. Nehmat hugs Tejo and says that she also wants a kiss. Tejo feels shy. She kisses Nehmat and sends her to school.
Jasmine says to Rupy that Naaz wants to study at that school. However, Rupy firmly refuses. He threatens to send Jasmine and her daughter out of the city if she disobeys. He leaves. Jasmine doesn't want Naaz to get punished for her mistakes. She apologizes to Rupy and decides to enroll Naaz in Nehmat's school so that Naaz and Tejo get closer.
At school, Naaz meets Nehmat. Mallika argues with Naaz about sitting next to Nehmat, which is her place. Nehmat pacifies Mallika and asks her to sit somewhere else. A teacher comes to the classroom and asks children to take out their color crayons. Naaz doesn't have color crayons. So Nehmat gives her color crayons. Naaz asks what she will do. Nehmat says that she has one more similar color crayons. Mallika asks Nehmat why she gave her crayons to her. Nehmat says that because she didn't have crayons and says that her mom told to help others.
Later, Jasmine learns that Nehmat is in Naaz's class and she gave her color crayons to Naaz. Jasmine is glad that Naaz is in Nehmat 's class and she takes care of Naaz. Meanwhile, Nehmat tells Tejo that she gave her color crayons to Naaz. Tejo appreciates Nehmat for helping others. Nehmat says that Mallika got jealous as she is her best friend. Tejo asks Nehmat to convince Mallika. Here Naaz wants to prepare a thank you card for Nehmat and wants to introduce Nehmat to Jasmine. But Jasmine doesn't want to meet Nehmat as she thinks that it could take Naaz away from the family.
Shelly spots Jasmine in the market and calls her out. Jasmine covers her face and says that she must have a misunderstanding, she's not Jasmine. Later, Shelly shows Jasmine's photo on the album to Satti and confirms that she's Jasmine. Shelly says that Jasmine is there. However, the family refuses to believe that she is in India. Lovely says that Jasmine can't return to India after what she did here. Shelly asks what she did. Satti doesn't let Lovely speak and says that Jasmine is happy in Canada with her family, then why she will come here. Shelly gets determined to find what Jasmine had done. Rupy is scared that Tejo or someone could also see Jasmine.
In school Naaz gives Nehmat a thank you card and they become friends. Mallika gets jealous seeing this. Mallika tears up the thank you card. Naaz trips Mallika. Nehmat gets worried about Mallika. A teacher comes there and tells the children to bring money to visit the museum the next day. Mallika gets angry with Nehmat and walks away. Nehmat says to Naaz to bring 1200 for the school trip.
Jasmine comes to school to pick up Naaz. Naaz asks Jasmine to pay 1200 for the museum visit. Jasmine says that she doesn't have money. She goes to collect the fee receipt. Naaz sees Nehmat and requests her to convince her mom to send her to the school trip. Nehmat agrees. Jasmine comes back. Naaz introduces Nehmat to Jasmine as her friend. Jasmine thinks that she's Fateh and Tejo's daughter, Nehmat. Nehmat requests Jasmine to send Naaz on the school trip and says that her mom says that it's good to send kids on a school trip. Jasmine says that maybe her mom didn't tell her that everyone has their own problems. Jasmine hides after seeing Gurpreet there.
Nehmat says to Fateh and Tejo about talking to Naaz's mom. Tejo says that Nehmat shouldn't have told Nehmat mom what she should do. It was impolite. After Nehmat leaves, Tejo blames Fateh for spoiling Nehmat by fulfilling her every wish because of which Nehmat doesn't understand that everyone doesn't get what they want. She further says that she doesn't know Naaz mom, but it seems they don't have anyone in the family. Meanwhile, Naaz tells Jasmine how Mallika tore up her thank you card. Jasmine comsoles Naaz. Naaz says that Mallika will make fun of her if she doesn't go on the trip. Jasmine assures Naaz that she will find a way. Jasmine wonders how to get money for the school. She wonders if she should ask Rupy. She drops that idea, remembering his words about not enrolling Naaz in Nehmat's school.
Rupy decides to move Jasmine to Chandigarh, so that Tejo and Jasmine doesn't cross path. Meanwhile Tejo is worried that Jasmine could return and claims her rights on Nehmat. Fateh says that they should tell Naaz the truth. Tejo agrees and they decide to tell Naaz the half truth.
The episode ends.
Precap Naaz phones Nehmat and requests her to come to her house to play. Tejo and Nehmat come to Naaz's house. Jasmine phones Rupy and says that Tejo and Nehmat are at her door step. Rupy is shocked to hear this.
Click to read