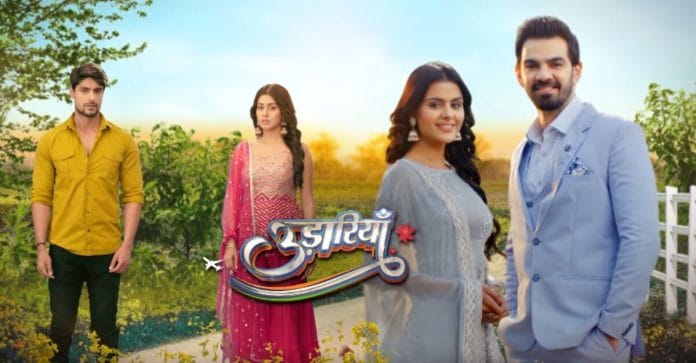 Udaariyaan 31st May 2022 Written Update on TellyExpress.com
The episode starts with Gurpreet shares her grief with Fateh. She asks him how could a mom think to hurt her unborn child? Fateh thinks he wanna find out whether Jasmin is pregnant or not? What's running on her mind. Meanwhile Tejo is thinking about Fateh. Kamal convinces her to take her near Fateh. Kamal shares to her friend that Tejo getting happy hearing his name. She asks to Kamal Is her family know she is alive reasoning she found her in such state. She was escaped from fire accident.

Jasmin complaints to her mom that all are treating her well just for Baby's sake. Her mom advise her to stop talking like this in pregnancy time. She asks her to be ready because they wanna meet Doctor. Jasmin thinks that this time no one can able to stop her marriage with Fateh. Later Tejo wears pretty dress. Jasmin calls Fateh to accompany her to hospital. He thinks that he might do it for family's happiness. Tejo asks her friends to get ready asap groom family will reach asap. They tries to convince her.
Jasmin's Bua searches for Tejo there. Her family members tries to convince her she went to library. Jasmin thinks she may saw Tanya and misunderstands her as Tejo. Bua informs to them that she saw her in Barnaala. Jasmin thinks she definitely saw Tanya but what's she doing there? Jasmin stops her father from searching for Tejo. She manipulates them. Meanwhile Tejo dances with her friends happily and gets tired. They teases her for getting tired easily and tells her how will she welcome Fate tomorrow? Later Jasmin calls to Fateh and informs to him that Tanya is not attending the call. If she don't attend the call then all situation will turn ups and down. Fateh leaves to check about her.
Jasmin's father calls to Fateh to confirm whether he get any information about Tejo or not. He assures to him that he was searching for her. Later Fateh calls to Jasmin and informs to her he cant able to find her at all. She fears that Tanya may escaped with money. Fateh blamed her for giving money to her. She decided to search for her using police. Gurpreet asks Jasmin to take care of herself because doctor advised to do it. She thinks that all are worrying about this baby but this baby is entry pass to Fateh life. .
Jasmin family are discussing about Tejo. Bua shares to them that girl is not Tejo but someone else. Meanwhile Buzzo meets Fateh and enquires him Is something bothering him? He lied to him as nothing. Buzzo alerts him that Jasmin has some other intention. She is doing this drama to enter into his life. Later Bua and Jasmin are arguing with each other her father asks him to stop it. Here Fateh says to him that he too doubted her but she was pregnant in real.
Buzzo alerts him Is he believing she really loved his brother? He nods to him pointing out Landon trip. He adds that she will do anything to fulfill her dreams to go to London. Meanwhile Tanya returns to home Bua confronts her where did she went? Why did she went to there? Both ends up in arguments. Tanya stands adamant that she went to library. Bua creates a scene there. Jasmin on cloud nine after she returned. She informs to Fateh that Tanya returned to home. Later Tanya and Jasmin ends up in arguments over this issues.
Episode end
Click to read