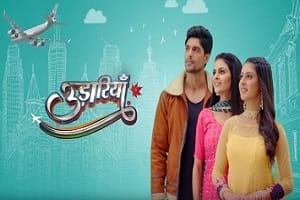 Udaariyaan 3rd June 2022 Written Update on TellyExpress.com
The episode starts with Jasmine saying to Tanya that Fateh should be her child's father. She says that she wants to give her child the whole family's love. Gurpreet sent special laddu for her previous day. She can enjoy all this love when she will be there. Tanya assures her that they won't have any option than taking her back. Jasmine says to Tanya to do whatever she wants soon, they have only one day.
Gurpreet is in Gurudwara. She cries remembering Jasmine's words and asks God's to show her path. Tanya comes to Gurpreet. The latter gives Tanya the food she prepared for Jasmine. Tanya thinks that Jasmine was right. Tanya asks what they have thought about Jasmine's condition. Gurpreet asks if Jasmine said her anything. Tanya says that she didn't. She says that they know that Jasmine is stubborn and she has stopped as Fateh told her. She says that she heard her talking to the doctor and the latter said they can abort the child till two months.
Tejo says that already one month has passed. Gurpreet requests Tanya to find any solution. Tanya says that she has a solution, she says that Fateh can be the bestest father for Jasmine's child. Other side Jasmine asks Satti where Tejo is. Satti says that she went to the college. Jasmine reacts angrily to Satti and wonders where Tanya has gone without telling her.
Gurpreet says to Tanya that she is right, she can marry Fateh and adopt Jasmine's child which stuns Tanya. The latter says no. She says that she's not talking about her and Fateh's marriage, but Jasmine and Fateh's marriage. Gurpreet asks what she's saying. Fateh and Tejo love each other and they would have got married if everything was fine. Tanya says that time changes everything including feelings and relation.
Gurpreet asks if she doesn't want to be with Fateh anymore. Tanya says that she can't think about Fateh in the same way after the incident. She says that they can't be together. Gurpreet says that her wounds can heal with time. Tanya says that it will take years, but Jasmine has only few weeks left. There Dilraj returns from school and says to Jasmine that he saw Tejo going to Gurudwara on his way. Jasmine wonders from when Tanya started to visit Gurudwara.
Here Tanya says to Gurpreet to think about Amrik and says that things can get better only with Fateh and Jasmine's marriage. She asks what if the person, who will marry Jasmine, doesn't give love to her grand child or doesn't give them their grandchild, but if Fateh marries Jasmine, he will give the child a father's love and the child will get all the relations of Amrik. Gurpreet says that Fateh loves Tejo and he will never marry Jasmine. Tanya requests Gurpreet to think about Amrik and his child. Jasmine sees this and thinks that she's doing her work.
Gurpreet says to Fateh that she came across Tejo in Gurudwara and says that she said to get him married to Jasmine to save Amrik's child which shocks Fateh. Gurpreet asks what happened between them and why she said to get him married to Jasmine and why they can't get married.
Fateh wonders how to tell Gurpreet that Tejo died and whom she thinks as Tejo isn't Tejo. Fateh says that Tejo is still in the shock and hates him, but he doesn't know why she said so. He says that she doesn't have any rights to take his life decision. He says to Gurpreet that it's not possible and says to not talk about it to him hereafter.
The next morning Fateh confronts Tanya about suggesting Gurpreet getting him married to Jasmine. Tanya says that she saw Gurpreet in Gurudwara crying, so suggested her this solution and says that Tejo would have done the same in her place. Fateh shouts that she isn't Tejo.
Tanya says that Fateh knows that Tejo can never return, Gurpreet wants Amrik's child at any cost, Jasmine wants a security for her child and no one can be better father than Fateh. She asks then what the problem is. Fateh says that because he doesn't love her. Tanya says that he used to love her and asks if he can't love her again for his family. She says him to not be selfish and think about his family.
Fateh refuses to marry Jasmine and warns to not talk about it again to his family. Tanya asks what he will do if she does so. Fateh remembers Tejo for a second on seeing Tanya's behavior. Fateh says that whatever he will do will not be good for her. Tanya says that she's not scared and challenges him to stop her if he can. Fateh and Tanya argue.
Jasmine says that she should go Fateh's home with Tanya, but she has gone for jogging. Jasmine falls from the steps and gets unconscious. Family gets shocked on seeing this. Rupy phones Tanya and informs the same. Fateh and Tejo rush to the hospital. Jasmine requests Tanya to save her child at any cost as he/she is the only way to get back Fateh.
She loves Fateh so much. Tanya realises that Jasmine only cares about Fateh and not the child. She thinks that she's using her for her own benefit and decides to keep an eye on Jasmine. Virks learn about Jasmine's falling from the steps and rush to the hospital.
Fateh wonders what's happening and prays for Amrik's child's safety. He wishes that Tejo could be with him at this time. Other side Tejo is dancing in the rain. She says that even Fateh would get drenched in the rain as he also likes the rain. Here Fateh gets drenched in the rain and remembers Tejo. He says that he misses Tejo so much.
The episode ends.
Click to read