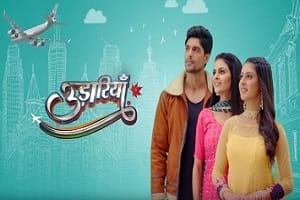 Udaariyaan 5th February 2022 Written Update on TellyExpress.com
The episode starts with Jasmine shouting at Amrik and threatening to kill him. Tejo slaps Jasmine and asks her to come her sense. Jasmine vows to destroy Tejo's life and takes her revenge from the Virks.
She asks Fateh to stop her if he can. She walks away angrily breaking things on her way. Fateh asks Amrik why he did this. Amrik says that he doesn't want Fateh to get punished for his mistake. He tried to make him understand the same, but he didn't listen. Amrik further says that first time he has done a courageous act. He tells that he spiked Fateh's drink and sat in the mandap on his place. Amrik unites Tejo and Fateh's hand and says that they have full rights and freedom to have a fresh start as they got rid off Jasmine after lot of difficulties. He says that he wants them to be happy. Fateh and Tejo look at each other.
Kushbeer and Gurpreet look happy while Rupy looks unhappy. Gurpreet says to Amrik that he is still a kid for them. Jasmine wom't let him live in peace and destroy his life. Kushbeer says to Amrik that he is proud of him and he supports him. Satti says to Rupy that she is happy that Jasmine won't be able to trouble Tejo anymore. Rupy says that it's good for Tejo if she decides to stay away Fateh and his family.
Jasmine is in her room having fruits. Amrik comes there. He takes the blanket and goes to sleep in another room. Jasmine stops him and makes him sit on the bed. Jasmine says that she forgave him for marrying her by tricking her and accepted him as her husband. She asks Amrik to act romantic as it's their first wedding night. Gurpreet worries about Amrik. Kushbeer believes that Amrik can handle Jasmine and moreover they're with him. Amrik tries to touch Jasmine. Jasmine pushes Amrik away and says him to not dare to touch her. She sacres him and asks him to dance to her tune.
Fateh is in call with Tejo. He says that he is worried about Amrik. Tejo says that she asked God for a miracle. She says him to accept what happened thinking it as God's will. Jasmine comes to Fateh and asks Fateh to leave the room as this room belongs to Virks daughter in law. Tejo hears this over phone and thinks that Jasmine can't let anyone live in peace.
Amrik comes to that room with his suitcase. Jasmine says to Amrik to tell Fateh to leave the room taking his things else she will burn it. Fateh leaves. Jasmine asks Amrik to keep distance with her. Fateh and Simran have a talk. Simran says to Fateh that he and Tejo are finally free to start their life again. Jasmine tears up Fateh and Tejo's photo and says that she will never let them unite. Tejo and Fateh are sad thinking about each other.
Gurpreet worries about Amrik. Biji reassures her. Some people comes to Virks house to meet their daughter in law. They congratulate Fateh. Fateh clarifies that Amrik got married. Angad learns about Amrik and Jasmine wedding through Tejo and gets happy. He says that now Fateh is single. Tejo worries about what will Jasmine do with the Virks as she owns the half property of the Virks. Anagad assures Tejo that he will find a way to stop Jasmine.
Jasmine asks the Virks to give her nice gifts for her mooh dikhai ceremony. She demands Gurpreet to give the necklace set that she wanted to give to Tejo. At the college, the principal thanks Tejo for suggesting not to accept Fateh resignation as his presence is very important for upcoming sports competition. Tejo says that she will give Fateh's job letter. She thinks that she can go to the Virks on this pretext and see what Jasmine is doing. Gurpreet gives Jasmine the necklace set she demanded. Jasmine gets overjoyed. Jasmine says that Fateh is her ex husband demands him to give her his gift.
The episode ends.
Precap: Jasmine pushes Tejo down and says that she bans Tejo's entry in the Virks hereafter and it's her new condition.
Click to read