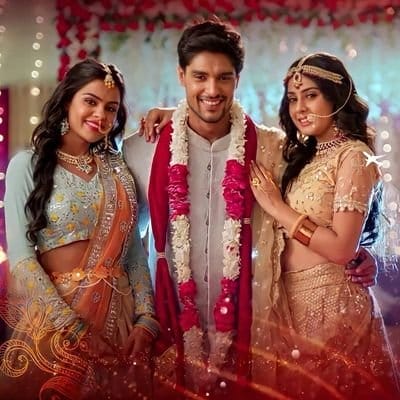 Udaariyaan 5th July 2022 Written Update on TellyExpress.com
The episode starts with Fateh asking Tejo why she went with Jasmine to the market. Tejo says that she went to meet Fateh as he called Jasmine to bring her to meet him. Fateh says to Tejo to not go with anyone unless he himself call and tell her. Tejo agrees and promises him the same. Fateh hugs Tejo. He puts her to sleep.
Gurpreet says to Rupy that she will do everything to protect Jasmine and her child. Nimmo says that Gurpreet means that they will register police complaint against them if they don't send Tejo to the asylum. She also adds that they will tell that Tejo is harmful and the whole city witnessed Tejo's madness during Fateh's football match and when she pushed down Jasmine. Lovely supports them which angers Rupy.
Gurpreet says that if Tejo doesn't leave this house, she will take Jasmine to her house. She gives them three days to decide whom they wanted to take care of, Jasmine or Tejo. She adds that they won't be able to take care of Jasmine when Tejo is here. Jasmine thinks that she doesn't want to go to the Virks as Amrik's widow, but Fateh's wife. She thinks of doing something to send Tejo out of the house as soon as possible. Rupy gets shattered and cries. Fateh comes to him and pacifies him. He says that they three are there to take care of Tejo and they're enough.
Fateh gives Tejo a mobile and says to dial 1 to call him. He says to dial 2 and 3 to call Satti and Rupy. He says to not go anywhere without him calling her. Fateh asks if she wants to go to Gurudwara. Tejo agrees and asks if he will come. Fateh says that he will join her later and asks her to go with Satti and Rupy. Rupy gets worried to take Tejo in public place. Fateh reassures him that they will handle her and asks Satti to not leave Tejo's hand in Gurudwara.
Tejo, Satti and Rupy are in Gurudwara. Satti prays to God to show them a way to take care of their both daughters. Meanwhile Jasmine gets a new sim card through Sweety. The latter gets worried that Jasmine is plotting again. Jasmine assures that she won't as she's pregnant. Jasmine listens to Fateh's old voice recordings. Sweety asks why she's listening to them now. Jasmine says that maybe Fateh will return to her now. Sweety tries to talk sense into her. Jasmine sends away. She smirks and says to let see how Fateh will save Tejo this time. Jasmine phones Tejo from the new sim and plays Fateh's old voice recording.
Tejo listens to the audio. In the audio Fateh asks Tejo to come to a road. Tejo gets happy. She asks a boy to hold Satti's hand and comes out running. Satti opens her eyes and gets shocked seeing a boy sitting in Tejo's place. She asks the boy where the girl who was sitting here. He says that he doesn't know. Satti goes to Rupy and alerts him about Tejo's missing.
Rupy gets worried about Tejo. Rupy and Satti look for Tejo. Rupy calls Fateh and tells that Tejo is missing and they couldn't find her. Fateh asks them to check again in the whole Gurudwara while he check outside the Gurudwara. Jasmine smirks thinking that Tejo won't be able to tell who called her.
Tejo shouts Fateh. She sees in a car rear mirror her look and thinks that she doesn't look presentable. She washes her face. While going back her duppata gets stuck in a tree. She tries to remove it and her duppata gets torn. She scolds the tree. She gets into an auto and tells the location. Meanwhile Sandhus and Virks learn that Tejo is missing and they look for her. Fateh, Virks and Sandhus are look for Tejo everywhere.
The auto driver scolds Tejo for not telling the right location. He leaves on the road and drives off. Fateh gets worried when he isn't able to find her. He regret leaving Tejo with others. He sees the torn duppata hanging on the tree. He says to Buzzo that Tejo is nearby and goes to find her.
The episode ends.
Precap: Jasmine calls Tejo and plays Fateh's voice recording. Tejo comes out and gets kidnapped. Fateh sees Tejo and shouts. He tries to go after the car, but falls down.
Click to read