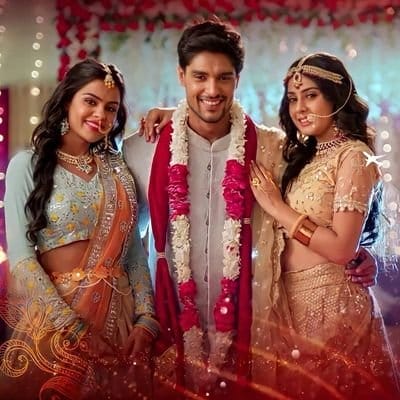 Udaariyaan 6th June 2022 Written Update on TellyExpress.com
The episode starts with Gurpreet saying that she brought Fateh's alliance for Jasmine shocking the Sandhus. Gurpreet further says that she wants that Fateh to become Jasmine's child's father. Jasmine gets elated on hearing this. Rupy asks if Gurpreet talked to Fateh. Gurpreet assures that she will talk to him, but for now it's important that Jasmine's child borns in their house. Rupy asks how Gurpreet can bring this alliance without talking to Fateh.
Satti asks if Gurpreet didn't think about Tejo and Fateh who love each other. She asks why Gurpreet wants to make Tejo away from Fateh and ruin three lives. Rupy says that they have to talk to Fateh and Tejo first.
Fateh is in the market and he recalls Tanya's words then Gurpreet's words. A girl comes to Fateh and asks if he won't make her wear the bangles. Fateh recalls a FB. Fateh makes Tejo wear the bangles and holds her hands. Tejo sees a girl and asks if she also wants bangles.
The girl nods yes. Tejo says to the bangles seller to give bangles for that girl too. FB ends. The girl asks Fateh where Tejo is, if she hasn't come with him. Fateh says that Tejo will never come. He gets bangles in all colors for that girl. Fateh thinks that all colors left from his life after Tejo left him. Meanwhile Tejo is wearing bangles.
Gurpreet says to Rupy that she talked to Tejo and brought this alliance upon her suggestion. Other side Tejo builds a house using the clay. She says that she will stay with Fateh in this house when he will come. Here Satti asks Tanya if Gurpreet saying the truth. Rupy asks if she's again sacrificing her happiness for others. Tanya says no. Gurpreet says that Tejo answered to all her questions by saying thatt she doesn't want to marry Fateh. Rupy asks what Fateh said. Gurpreet says that he is her son, so she will convince him.
Rupy says that he won't let this happen, Fateh and Tejo deserve to live a life they want and they shouldn't force them. He says that they care for Jasmine's life, but not like this. He further says that he already tried to make Tejo away from Fateh and they all knew the consequence, he lost Tejo. He says that God gave him another chance to rectify his mistake by sending again, so he won't repeat his mistake. Jasmine says that she can't even tell them that Tejo is no more.
There Tejo is making roti for Fateh. Here Rupy says that he will stand with whatever Tejo and Fateh's decision. Jasmine coughs to get Tanya's attention. Tanya offers Jasmine water. She whispers to Tanya to stop Rupy. Jasmine says that she can't say anything as she's helpless. She will accept Tejo's decision and moreover Fateh loves Tanya.
Tanya says that she already talked to Gurpreet about this, she and Fateh can never unite. Jasmine's child needs a father and Fateh has to move in his life too. Gurpreet says to Jasmine that her parents will agree if she agrees.
Jasmine says that she already did lost of mistakes, so she will obey to her parents this time. She adds that Fateh will also think that she made her told all this. Gurpreet says that she will convince Fateh. Jasmine says that she doesn't want anyone force Fateh. She further says that she won't agree to this alliance till Fateh agrees.
She adds that she won't bring her child to this world if she doesn't get a father for her child. Tejo says to her friends in asylum that Fateh loves her lot. Fateh says to Gurpreet that he loves Tejo and can't think about anyone else than Tejo. Gurpreet says that Tejo refused to marry him. Fateh says her to give Tejo time to think. Gurpreet says that she can't see anything else in front of Amrik's child, what if Jasmine does anything with her child. She cries. Fateh walks from there.
Fateh gets sad remembering Tejo. He takes out his wedding clothes. He wears them. There Tejo sees a groom's procession going. She shouts that Fateh has come. She runs to that procession. Here Fateh looks at Tejo's photo and says a shayari. There Tejo asks the groom if he's Fateh. The groom says no.
Tejo gets sad. Here Tejo drops the photo. He shouts Tejo and picks it up. His finger gets pierced with glass piece and bleeds. He cries hugging the photo. Tejo's friends ask why she's crying. Tejo says that he isn't Fateh. They ask if she remembers his face. Tejo says no she only remembers his face. Tejo throws the stones getting angry. Her friends try to calm her down.
The episode ends.
Click to read