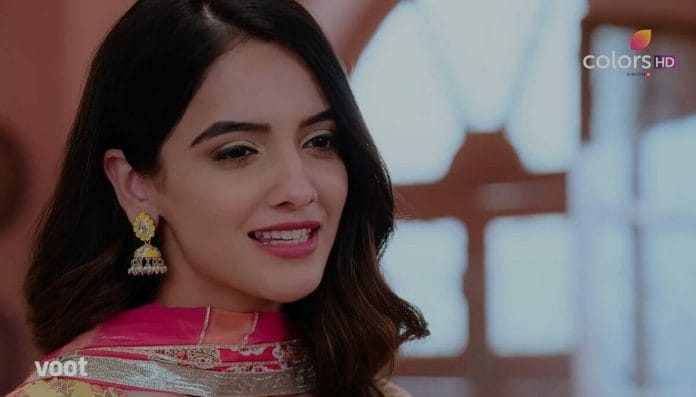 Udaariyan Spoilers, Upcoming Story, Latest Gossip , Future Story, Latest News and Upcoming Twist on tellyexpress.com
Colors' popular show Udaariyaan is gearing up for more drama, with Naaz learning that Jayveer and Ekam could get arrested.
Previously, it was seen that Ekam had reached the hotel where Advait and Nehmat were staying, sharing a room. He checked the register to find out if Nehmat was staying there. As Advait wrote names on the register, Ekam left, becoming disappointed about not being able to find Nehmat and to surprise her.
On the other hand, Nehmat was crying, feeling guilty for lying to Ekam. The next day, Nehmat returned home. Ekam phoned Nehmat. The latter tried to tell him the truth, but she couldn't as Ekam disconnected the call before that. Later, Naaz checked Nehmat's file regarding the article and learned that Jayveer and Ekam could get arrested. She was overjoyed to discover this.
She planned to use this to ruin Nehmat and Mallika's happiness. In Canada, Jasmine was blaming Rupy for not being able to be with Naaz. She mentioned having one more daughter, who is Naaz's sister, and wanted to fulfill all their wishes.
In the upcoming episode, it will be shown that Mallika's Sangeet's ceremony will be going on. Ekam and Nehmat will happily dance. Naaz will mock Mallika. She will say that her fiance shows more interest in other girls than her. She will say to let see whether Nehmat will become Mallika's sister-in-law or her bad luck.
Mallika will get furious and will slap Naaz. Nehmat will be shocked to see this. Jayveer will hold Shamsher by his collar and will say that he learned that he caused Fateh and Tejo's accident.
What will happen next? Will Ekam and Nehmat learn Shamsher's truth? How will they react to this?
Stay tuned to this space for the latest updates of your favorite Hindi shows.