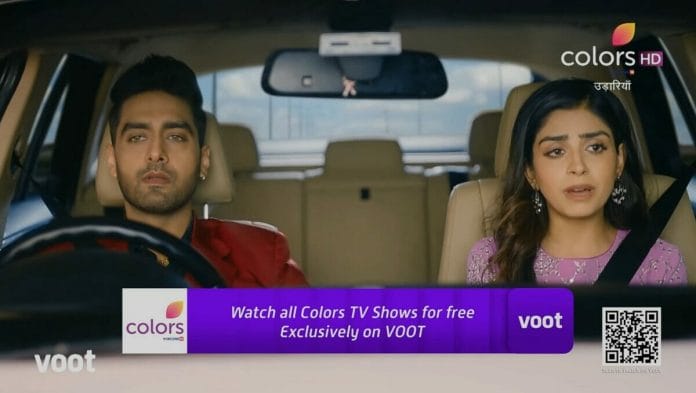 Udaariyan Spoilers, Upcoming Story, Latest Gossip , Future Story, Latest News and Upcoming Twist on tellyexpress.com
Colors' popular show Udaariyaan is gearing up for more drama, with Advait taking Nehmat to Shimla.
Previously, it had been seen that Nehmat confessed to Ekam that she had lied to him and she had broken the promise by meeting Advait for a confidential work. Ekam believed Nehmat and told her that Mallika had learned this. Ekam and Nehmat took a disguise and danced around Mallika to convince her.
Nehmat assured Mallika that she had met Advait about an official work which she couldn't reveal to her as it was highly confidential. Ekam reminded Nehmat that the next day was the day they confessed their love to each other. He asked Nehmat to meet him the next evening.
Later, Advait phoned Nehmat and said that they should go to Shimla to stop the article publishing. Nehmat agreed, hoping to return before evening. In Canada, Jasmine recollected her past.
She vowed not to let Nehmat snatch anything from Naaz like Tejo snatched everything from her. She then admitted being responsible for Fateh-Tejo's accident.
In the upcoming episode, it will be shown that in Moha, Ekam will be waiting for Nehmat with a flower bouquet. In Shimla, Shelly will be shocked to spot Advait and Nehmat having a private meeting in a café. She will click photos of Advait and Nehmat holding hands. Shelly will send those photos to Naaz.
Then, she will call Naaz and will ask her to check the photos. Naaz will be shocked to see the photos. Shelly will tell Naaz that Nehmat and Advait are in Shimla. She will add that Nehmat has come to Shimla with Mallika's bride for a honeymoon when there's only one week left for Mallika and Advait's wedding.
Naaz will smirk. She will feel sorry for Ekam. Nehmat and Advait will be stuck in Shimla due to a landslide. Nehmat will phone Ekam and will tell him the same. Ekam will ask who is with her. Nehmat will look confused about whether to tell Ekam about Advait or not.
Will Nehmat tell Ekam about Advait? How will Ekam react to it? How will Mallika react, after knowing about Nehmat and Advait being stuck in Shimla?
Stay tuned to this space for the latest updates of your favorite Hindi shows.