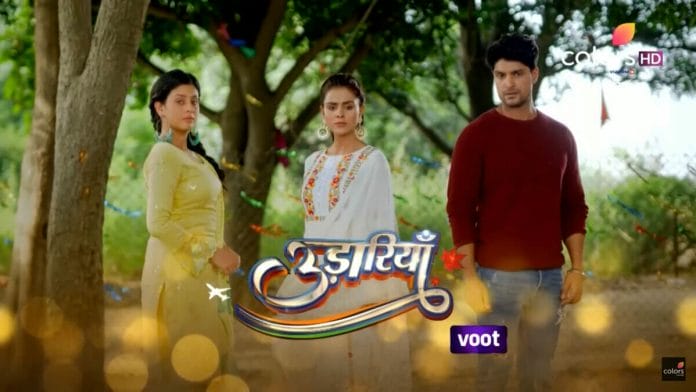 Udaariyan Spoilers, Upcoming Story, Latest Gossip , Future Story, Latest News and Upcoming Twist on tellyexpress.com

Last week, it was seen that Nehmat refused to play with Naaz and urged Fateh and Tejo to take her home. After reaching the Virks, Tejo questioned Nehmat about her sudden change in her behavior. Nehmat vented out her anger at Naaz for being Jasmine's favorite child, so that Jasmine kept her with her while she abandoned Nehmat.
She refused to return to the Sandhus house or play with Naaz anymore. Tejo reminded Nehmat that she wished to have a sister. Nehmat refused to accept Naaz as her sister and declared that she hated Naaz. Meanwhile, Rupy found Naaz tearing up. He asked her the reason behind her sorrow. Naaz said that Nehmat refused to play with her. She was angry at her.
Naaz wondered why Naaz didn't like her. Rupy consoled Naaz and cheered her up. On the other hand, Virks tried to cheer Nehmat up. Nehmat asked if she was too bad, so Jasmine left her, but not Naaz. Tejo revealed that Jasmine forsook Naaz too.
Tejo made Nehmat to promise never tell Naaz that Nehmat was also Jasmine's daughter and asked her to always take care of her sister, Naaz. Nehmat promised the same. Later, Nehmat met Naaz and gave her a sorry car for her rude behavior and they reunited.

Tejo expressed her concern about Nehmat discovering the truth in the future. Fateh reassured Tejo and advised her to forget that they were aware of that truth. Meanwhile, Nehmat and Naaz were playing with the Sandhus. Naaz was jealous to see Nehmat getting more love and attention from the family.
In order to turn their attention towards her, she pretended to fall and get hurt. The family and Nehmat rushed to Naaz and cared for her. Naaz was rejoiced that her trick worked. Rupy was emotional about seeing Nehmat's care for Naaz as it reminded him of Tejo's love for Jasmine, which the latter failed to value and gave only pain to Tejo in return. He wished that Nehmat and Naaz's story not to be the same. Tejo and Fateh grew concerned after discovering Naaz's insecurity when the latter visited the Virks.

Fateh and Tejo got a new cycle for Naaz. Naaz and Nehmat decided to go cycling. Mallika got jealous of Naaz and Nehmat's friendship and vented out her anger. Naaz told Fateh about Mallika's hatred for her and asked Fateh to take back the cycle as she didn't want to lose Nehmat's friendship.
Naaz eavesdropped on Shelly and her husband's heated conversation and was shocked to learn that Nehmat was also Jasmine's daughter. Naaz got angry that Jasmine left Nehmat to a rich and nice family, while she left Naaz to an evil grandmother and dad.
Meanwhile, Fateh and Tejo discussed Naaz's insecurity and decided to adopt her to reduce it. They went to talk to Nehmat about the same, but they felt it wasn't necessary seeing Nehmat already caring for Naaz as her elder sister.
Later, Fateh-Tejo and Nehmat met Naaz and Satti in a park. Naaz's jealousy increased by seeing Fateh-Tejo and Nehmat eating ice cream together. She angrily broke Nehmat's cycle.

Nehmat got shattered finding her cycle broken. Fateh and Tejo consoled Nehmat. Naaz pretended to be innocent and asked who broke Nehmat's cycle and even offered Nehmat to take her cycle. Fateh refused and assured Nehmat to fix her cycle.
A man told Fateh that a girl in a blue T-shirt had broken the cycle. Fateh noticed that Naaz was wearing the blue T-shirt and he was shocked to realize that Naaz had broken Nehmat's cycle. Later, he told Tejo about Naaz's action and grew worried that Nehmat could suffer because of Naaz's complexity.
Tejo assured Fateh to talk to Naaz to find out what was running in her mind. Later, Nehmat suggested getting Fateh-Tejo remarried so that she could witness her parents' marriage. Tejo refused. So Fateh made a plan with Nehmat's help to convince Tejo.
Fateh surprised Tejo and asked her for marriage. Tejo agreed to marry Fateh again. Nehmat was grateful to have such sweet parents. Meanwhile, Naaz wished to get everything that Nehmat had.

Later, Fateh-Tejo told Nehmat about their decision to adopt Naaz. Nehmat approved Fateh and Tejo's decision and expressed her joy. She wanted to announce it immediately to Naaz, but Tejo and Fateh asked her to wait till their wedding. Nehmat went to invite Mallika to her parents' re-wedding while Tejo made Naaz try the dress she shopped for Naaz for the wedding function.
Naaz wasn't satisfied and wanted Nehmat's dress and jewels. She discovered Jasmine's letter and had a shock of her life, learning that Jasmine had left forever by abandoning her. She broke down in tears. Tejo consoled Naaz and assured her that they were all with her forever.
Later, the family celebrated Fateh and Tejo's Haldi and Sangeet ceremony. Tejo was elated to see her family happy and was excited about adopting Naaz and taking her to their house. Tejo didn't want Fateh to see her face before their wedding.
However, Fateh saw her face. Later, they tied the knot with the family's blessings.
In the upcoming week, it will be shown that Tejo and Fateh will dance to the song Pyaar Hua Ikraar Hua. Everyone will dance. Naaz will imagine Jasmine dancing with them.
Tejo and Fateh will get ready to leave. Nehmat will cry hugging them. The family will tease Nehmat for that. Later, Tejo and Fateh's car will meet with an accident and they will die in the car's explosion. Rupy will learn this through a phone call.
Nehmat and Naaz will cry hugging. After a leap, they will be shown grownup. Naaz will pretend to be nice outside, but will hide her jealousy of Nehmat inside her. She will want to snatch everything from Nehmat, including Ekam.

Stay tuned to this space for the exclusive updates of your favorite shows.