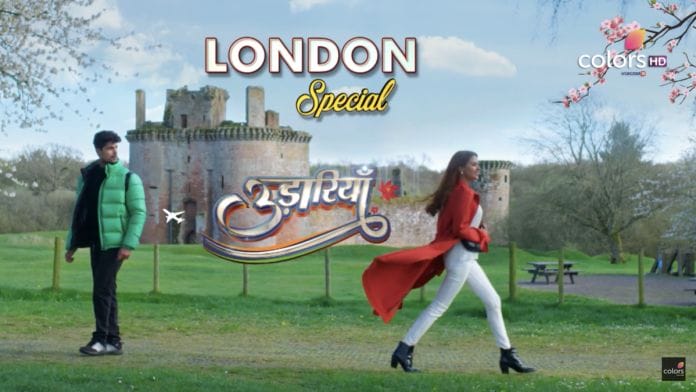 Udaariyan Spoilers, Upcoming Story, Latest Gossip , Future Story, Latest News and Upcoming Twist on tellyexpress.com

The last week it was seen that Tejo cried hard wanting to meet Fateh. Amma told Tejo that Fateh left her here so that she could get well. Tejo refused to believe it. She said that she must be angry with her and asked Amma to tell Fateh that she wouldn't go out alone hereafter.
Meanwhile Fateh also cried his heart out remembering Tejo. He regretted his decision. The next morning Jasmine met Gurpreet and put on an act. She said that she decided to not marry Fateh as she didn't want to snatch Tejo's love on her absence.
Jasmine hinted that if she married someone else she might not be able to make her child meet them which shocked Gurpreet. Later Gurpreet asked Fateh to marry Jasmine. Gurpreet asked Fateh to choose between her and Tejo when he refused to marry Jasmine.

Later Jasmine and Sandhus got to know that Gurpreet's health got bad after learning about Jasmine's decision. They paid a visit to her. Gurpreet assured Jasmine that Fateh would marry her only. Just then Fateh came home marrying Tejo shocking all.
Fateh tried to take Gurpreet's blessings, but Gurpreet refused to give her blessings neither accept Tejo as her daughter-in-law stating Tejo didn't know the meaning of marriage and its values.
Fateh argued with Gurpreet and said that only love is needed to keep the marriage and Tejo loves him so much and she knows the meaning of Fateh. Rupy said to Fateh that he didn't ask their permission to marry Tejo and added that Fateh kept changing his mind and feared what he would change his decision again in the future.
Fateh apologized to Rupy for marrying Tejo without telling anyone and promised to never abandon Tejo. Kushbeer asked Gurpreet to perform the welcoming ritual of the newly married couple. Gurpreet refused. Other ladies of Virks' house performed Fateh and Tejo's welcoming rituals.

Gurpreet shouted and refused to eat. Tejo got scared hearing this and wanted leave the house. Fateh assured her to build their dream house. At Sandhus house Jasmine threw the things in her room venting out her anger. But she got elated when Lovely rebuked Rupy and Satti for accepting Fateh and Tejo's marriage and told that their marriage isn't valided by law.
Other hand Gurpreet and Nimmo got irked seeing Fateh pampering Tejo. She complained to the family members about the same and asked them to react. She also reminded them about Jasmine's decision of getting married and got angry for not doing anything to stop Jasmine. Meanwhile Jasmine told her family that she got a guy, who lives in Canada for marriage shocking Satti.

Jasmine visited Fateh and Tejo and congratulated them for their marriage. She forced Tejo to accept the flowers bouquet stating she loves roses. Tejo got pricked with torn when she touched it which worried Fateh. Fayeh and Tejo refused to accept her bouquet and asked her to leave.
Jasmine then came to Gurpreet and provoked her telling that Tejo and Fateh's marriage is illegal according to the Law. She then told that she got a guy from Canada for marriage and hinted that she might shift to Canada after marriage shocking Gurpreet.
Later Gurpreet asked Fateh to marry Jasmine to prevent her from marrying anyone else. Fateh reminded Gurpreet that he was already married Tejo. Gurpreet told that their marriage was legally not valid shocking Fateh.
Fateh refused to accept any such laws which would make him away from Tejo. However Gurpreet got determined to get Fateh married to Jasmine. She coughed badly. Fateh calmed her down and assured to talk to Jasmine.

Later Fateh confronted Jasmine. He told her that he understood her game to separate him and Tejo using her child. He asked her to marry whoever wants, but she should gave her child to the Virks family as it's their heir shocking Jasmine. Later Gurpreet argued with Fateh for not agreeing to marry Jasmine.
Fateh got frustrated and decided to leave the house where not only Tejo was accepted as his wife and even their marriage was called illegal. Gurpreet challenged Fateh to look after Tejo without his family's help. Fateh accepted the challenge and left the house with Tejo.
Buzzo arranged a house for Fateh and Tejo. Fateh did his and Tejo's welcoming in their new house. Meanwhile Jasmine agreed to meet a guy called Yash.

Satti and Rupy called Fateh. Tejo answered the call as Fateh was busy painting the wall. Tejo told them about being in their new house. Fateh explained them that he left the house with Tejo. Ruppy and Satti got worried how fateh could handle everything alone. Jasmine got happy on hearing this.
Gurpreet got worried about Fateh and regretted challenging him. Nimmo asked her to not get weak if she wants Fateh back. Jasmine met Yash. Yash welcomed her singing a song and dancing.
Jasmine asked if he was aware of her past. He said that it didn't care about it. He gifted Jasmine diamond-studded watch. Satti brought food for Fateh-Tejo. Fateh refused to take her help. Tejo also refused to take the food even though she was hungry. Fateh made noodles for Tejo.

Fateh got call from the college asking him to rejoin the college immediately. Fateh got worried to leave Tejo alone. On knowing this Simran offered to look after Tejo in his absence, but Fateh refused her help too.
So she gave him the number of a girl who could take care of Tejo. Fateh left Tejo's responsibility to Sunita and left for college. Jasmine smirked watching this. Later Fateh got worried on seeing numerous missed calls of Tejo. He rushed home and found neighborhood kids annoying Tejo and Tejo crying getting scared.
Fateh chased out the kids. He broke the lock and went it. Ha pacified Tejo. Just then Sunita came back. Fateh scolded her for leaving Tejo alone. He fired her from the work.

Neighborhood people complained to Fateh about Tejo and asked him to either vacate the place or send Tejo to the mental asylum else they will call police. Fateh got worried. Meanwhile Gurpreet learned this and told to Rupy and Satti. She suggested voiding Fateh and Tejo's marriage. Satti and Rupy refused.
Jasmine made a video call to Yash and made him talk to Satti and Rupy to make Gurpreet worry. Later Satti convinced Fateh to move to Sandhus' house with Tejo. Fateh moved to the Sandhus on two condition of paying rent and taking care of Tejo alone while he would be at home. Later Fateh warned Jasmine to not trouble Tejo.

In the upcoming week it will be seen that Jasmine will say to Gurpreet that she's going to meet Yash's parents. Gurpreet will ask her to go and meet them shocking Jasmine. Tejo will care Fateh.
Sandhus will get happy seeing this. Jasmine will vow to get Fateh at any cost.
Stay tuned to this space for exclusive update of your favorite shows.