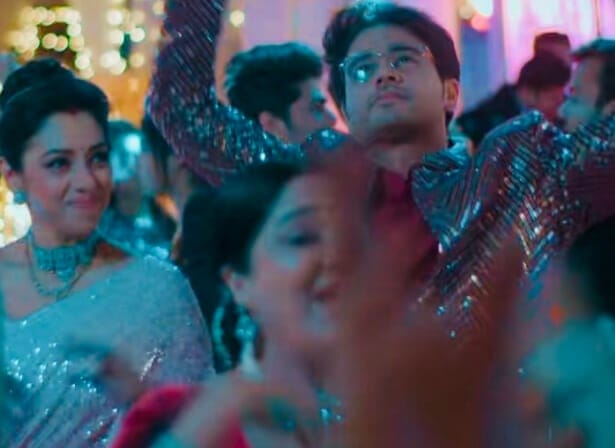 Anupama Upcoming Story, Spoilers, Latest Gossip , Future Story, Latest News and Upcoming Twist on TellyExpress.com
Drama to galore in Anupama; Pakhi will plan an avenge. Barkha will help Pakhi to execute her plan against Anupama.
In today's episode, Pakhi confront Adhik. She asks Adhik not to do unnecessary drama. Pakhi ask Adhik what problem has if she has accepted little jewellery. Adhik says she has accepted jewellery that costs 60 Lakhs. Pakhi says they dnt have to pay immediately. Adhik asks Pakhi how they will pay it later. Both argue with each other. Anupama spots Adhik and Pakhi.
Devika, Kinjal and Kavya dance. Paritosh gets happy seeing Kinjal. Ankush and Barkha also perform. Leela praises Barkha's dance. Adhik says to Pakhi that his monthly salary is 1 Lakh. Pakhi asks Adhik why he is doing job n Anuj's office rather being Anupama and Anuj's son-in law he should as for an equal partnership in the company. She asks Adhik how his dream can be so low being Barkha's brother. Anupama over hears Pakhi and Adhik's conversation and stand teary.
Pakhi share with Barkha that Adhik is still upset with her on accepting jewellery. Barkha asks Pakhi not to compromise on her dream. She adds sacrifice if a middle class word and she should not make the one.
In the upcoming episode, Barkha will spark fire between Anupama and Pakhi. Anupama will get angry on Pakhi for turning crazy over becoming rich. Pakhi will disrespect Anupama. Anupama will slap and will disown Pakhi. She will ask Adhik and Pakhi to leave the house. What Pakhi will do to re-enter Kapadia house will be interesting to watch. Will Barkha helps Pakhi to make her place in Kapadia mansion? Time will tell.
Stay tuned for TV serial latest news