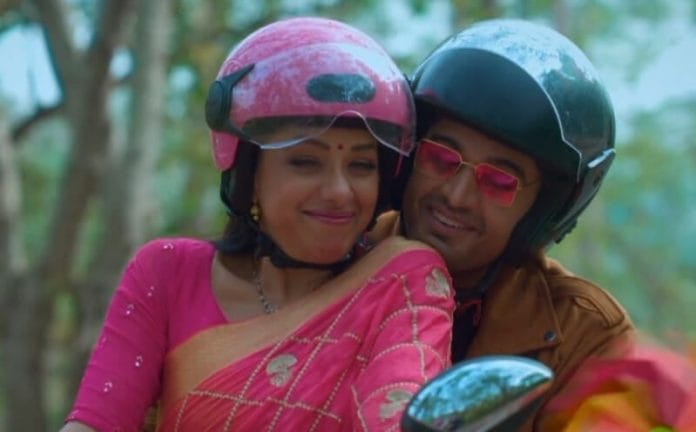 Anupama Upcoming Story, Spoilers, Latest Gossip , Future Story, Latest News and Upcoming Twist on TellyExpress.com
Paritosh will get stuck in selling illegitimate property to Jayanti. Jayanti will ask Paritosh to return his money.
In today's episode, . Anupama wakes up and dances to melt Anuj. Devika, Dhiraj and Anupama think Anuj is not melting. Devika asks Anupama not to give up. Anupama dances and continues to stop Anuj from leaving. Anuj manages to escape. Dhiraj and Devika ask Anupama not to give upon and stop Anuj anyhow. Anupama dances in front of Anuj's car to stop him. Anuj gets adamant to leave. He asks Anupama to stop her dance as he is getting late. Anupama stands teary.
Devika asks Anupama not to spoil her mood. Dhiraj says Anuj will return. Anupama cries thinking she tries the ways but Anuj is very angry thus he ignored her. Anuj returns and confesses his love for Anupama. Anupama gets happy. Anupama, Anuj, Dhiraj and Devika dances with each other. Anuj read poetry for Anupama. They decide to become friends. Anuj, Anupama dance together. Dhiraj and Devika asks Anupama, Anuj not to lose their love. Devika asks Anuj, Anupama not to get upset so much that they are left alone like her. Dhiraj adds and regret like him later. Anupama, Anuj stands stunned
Elsewhere, Jayanti's men beat Paritosh. Vanraj gets angry on Jayanti. Jayanti calls Paritosh fraud. Paritosh defend himself. Jayanti asks Paritosh to return back him money for trying to sell illegitimate property. Vanraj assures Jayanti. He gets angry on Paritosh.
In the upcoming episode, Vanraj struggles to arrange the money. Jayanti threatens Shahs. Vanraj decide to take the control in his hand again. Will Vanraj again go back to Anupama post Kavya will reject him? Keep watching the show for more drama.