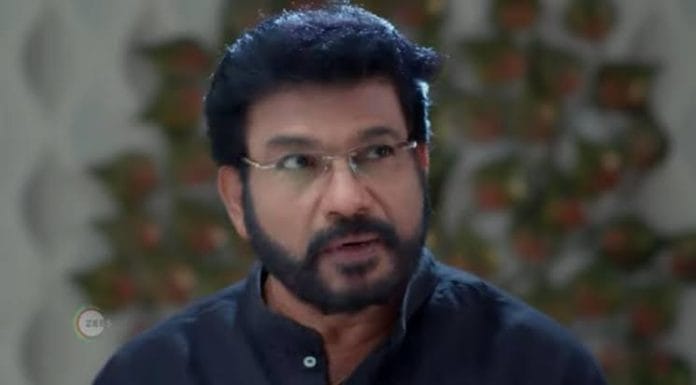 Vidhya No 1 Upcoming Story, Spoilers, Latest Gossip, Future Story, Latest News and Upcoming Twist, on TellyExpress.com
Zee Tamil's much loved show Vidya No1 is gearing up for drama with Meghna trying to find what Sanjay is hiding in his room.
Previously, it was seen that Vijay saw Vidya and he questioned Sanjay about hiding Vidya in his room. As they were talking, Vedavalli arrived there. Vidya hid immediately. Vedavalli asked Sanjay and Vijay what they were doing outside in the early morning. They lied that they were talking after their jogging.
Vedavalli asked who had put the kolam. Vijay and Sanjay panicked. Just then, Meghna got there and said that Vidya used to put this type of kolam. As Vedavalli wondered how Vidya could put this kolam, Manasa came and lied that she put the kolam.
Later, Vijay, Manasa and Sanjay escorted Vidya to Sanjay's room. Vijay scolded Meghna for always creating problems using Vidya. Later, Meghna instigated Preethi to check Sanjay's room. Preethi said to Vedavalli that she doubted Vidya was hiding in Sanjay's room and demanded Vedavalli to check his room.
In today's episode, it will be seen that Vedavalli agrees to Preethi checking Sanjay's room. Sanjay, Manasa and Vijay are worried that Vidya will be caught. But Preethi and Meghna don't find Vidya in Sanjay's room. Vedavalli scolds Preethi for doubting Sanjay.
Sanjay, Manasa and Vijay look for Vidya and find her in a room behind the toys. Chandramohan reveals to them how he overhead Preethi and Meghna's conversation and shifted Vidya to another room.
Later, Vidya requests Sanjay to take her to the temple on a special occasion. But Sanjay refuses. Vidya gets sad. However, Sanjay gets ready to take Vidya to the temple in the night. He turns off the main electricity supply box. But Preethi spots Sanjay while Vidya hides.
Will Sanjay and Vidya get caught this time?
Stay tuned to this space for the latest updates on your favorite shows.