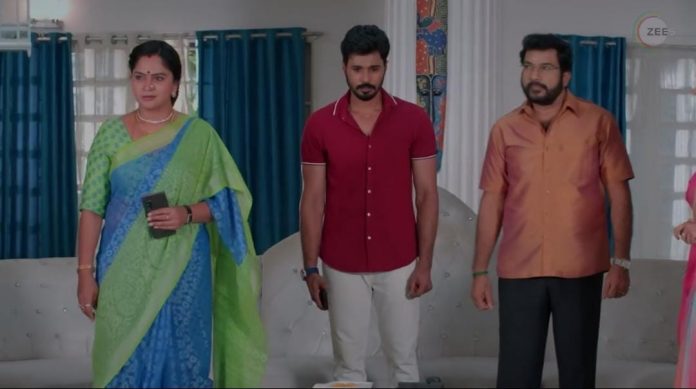 Vidhya No 1 Upcoming Story, Spoilers, Latest Gossip, Future Story, Latest News and Upcoming Twist, on TellyExpress.com
Zee Tamil's daily soap Vidya No 1 is gearing up for more drama with Chandramohan and Vedavalli challenging each other.
In the previous episode it was seen that Vidya and Sanjay got stopped by the police patrol team on their way. Sanjay said that Vidya is his wife after hesitation when the police enquired about their relation. Police got suspicious and took them to the police station. The inspector recognized Sanjay and informed Vedavalli that her son was in the station along with his wife. Vedavalli said that her son is unmarried and he may misunderstood someone else for Sanjay. But Vedavalli got suspicious on not finding Sanjay on his room.
She told the inspector she was coming. She reached police station with Vijay. She got shocked on finding Sanjay with Vidya and slapped him. Sanjay explained the circumstances in which he said her his wife. However Vedavalli was enraged because Sanjay said that Vidya, who is not suitable for him, as his wife. Vidya lost her cool and lashed out at Vedavalli for forcing her to get married against her wish.
In today's episode it was seen that Chandramohan got ready for Vidya's engagement. Chandramohan got shocked when the groom family called off the wedding. Chandramohan argued with Vedavalli holding her responsible for the cancellation of Vidya's engagement. Vedavalli also admitted it. The next day Chandramohan shocked the family proposing Vidya's alliance for Sanjay.
Vedavalli strongly opposed stating that Vidya isn't a suitable match for Sanjay whereas Chandramohan grew adamant to get Vidya married to Sanjay. However Sanjay refused to do anything going against Vedavalli. Chandramohan challenged Vedavalli that Vidya will be this house daughter in law and Sanjay's wife whereas Vedavalli challenged that it can never happen.
What will happen next? Will Vedavalli stop Vidya's marriage?
Stay tuned for more news about your favorite shows.