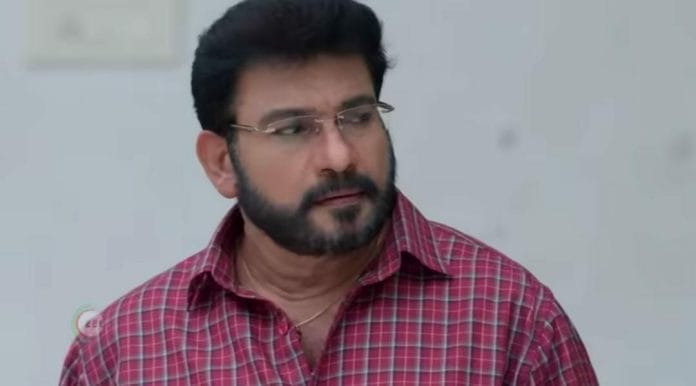 Vidhya No 1 Upcoming Story, Spoilers, Latest Gossip, Future Story, Latest News and Upcoming Twist, on TellyExpress.com
Zee Tamil much loved show Vidya No1 is gearing up for drama with Shankhutala exposing Vidya's real identity.
Previously it was seen that Shankuthala first revealed that his family making Vaani to act Vidya shocking Chandramohan. She further said that actually his family wasn't aware that she was the real Vidya shocking all. She also gave Vidya's aadhaar card as proof. She disclosed Sanjay knowing this.
Vidya admitted that Shankhutala was telling the truth and explained Chandramohan in what circumstances she had to agree to act as Vidya. Meghna and Sneha scolded Vidya for fooling Vedavalli. Meghna drag Vidya to the gate to throw her out of the house, but Chandramohan stopped her..
In the today's episode it was seen that Chandramohan lashed out at Meghna for trying to kick Vidya out of the house. He said that Vidya would stay in this house and gave his swear to his family to not disclose Vidya's truth to Vedavalli. Manasa agreed as Vidya saved her life.
Sanjay and Vidya also agreed. Vedavalli's sister also agreed as Vidya only did good for the family. Chandramohan made Sneha and Meghna to promise that they wouldn't tell Vidya's truth to Vedavalli. However Meghna got determined to tell the truth to Vedavalli and called her. But Vedavalli didn't receive her call. C
handramohan intervened shocking Sneha and Meghna. He told that he was aware of Sneha lying about her education qualification to marry Vijay. A FB showed of Chandramohan overhearing their talk.
Chandramohan threatened Meghan to tell Sneha's truth to Vedavalli if she will tell Vidya's truth to Vedavalli. Later Sanjay got upset when his friend blamed him about their project cancelation. Vidya pacified Sanjay.
What will happen next?
Will Vedavalli accept Vidya as her daughter-in-law?
Stay connected to this space for latest update of your favorite shows.