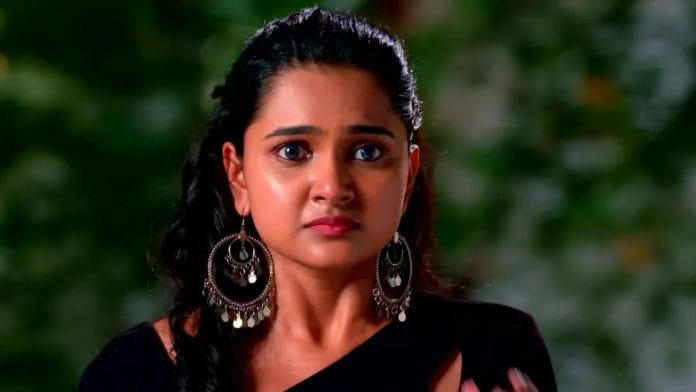 Vidhya No 1 Upcoming Story, Spoilers, Latest Gossip, Future Story, Latest News and Upcoming Twist, on TellyExpress.com
Zee Tamil much loved show Vidya No1 is gearing up for drama with Ranjith plotting against Vidya.
Previously it was seen that Ranjith and his men discussed fixing a bomb to prevent Vidya from performing the ritual. Valli heard this. She tried to alter Vidya, but Ranjith and his men noticed Valli before that.
They attacked Valli and locked her in a room. Meanwhile Sanjay and his friend convinced Preethi to perform a ritual to keep her busy while Sanjay could be with Vidya while she was performing the puja.
Sanjay's friend passed by the room where Valli had been keeping as captive. Valli called out to Sanjay's friend and told him about Ranjith's plan. He alerted Sanjay about the same. The latter rushed to Vidya. He found the bomb and throw it away before it exploded.
In today's episode, it will be seen that Vidya will be performing the ritual. She will fall into a pit. Sanjay will find Vidya and will help her to come out of it. Ranjith and his men will block Vidya and Sanjay's way. They will attack Vidya and Sanjay. The latter will fight them.
Ranjith's men will overpower Sanjay and will try to hit him. Mayan will come there. He will fight with the goons and will save Sanjay and Vidya. Later Vidya will complete the ritual successfully.
Mayan will felicitate Vidya and will honor Sanjay and Vidya. Preethi will be shocked to see Sanjay with Vidya. She will realize that Sanjay lied to Vedavalli and came to the village to perform the ritual with Vidya. Sanjay and Vidya will notice Preethi and will look on shocked.
What will happen next? Will Sanjay and Vidya's marriage secret come out?
Stay tuned to this space for the latest update on your favorite shows.