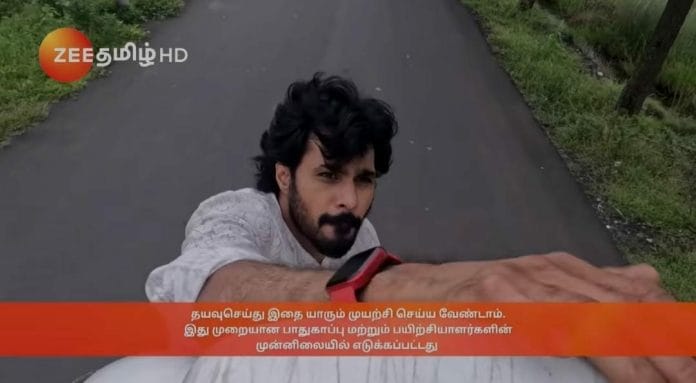 Vidhya No 1 Upcoming Story, Spoilers, Latest Gossip, Future Story, Latest News and Upcoming Twist, on TellyExpress.com
Zee Tamil's popular show, Vidya No1, is gearing up for drama with Vidya learning about Shakuntala's plan to kill Vedavalli and her family.
Previously, it was seen that Vedavalli refused to take Vidya along with them to the temple despite Chandramohan, Sanjay and Vijay trying to convince Vedavalli. Vedavalli and the family left in the van. Vidya found a phone which the mechanic who had cut the van brakewire had forgotten there.
The mechanic friend phoned on that phone to asked if his friend had cut the break successfully. Vidya was shocked to hear this. Vidya rushed to save Vedavalli and her family. Shakuntala's son and the mechanic come back to collect mechanic's phone.
They saw Vidya leaving with the mobile. They attacked her and took the phone from her. Vidya drove an auto and rushed to save Vedavalli and her family. On her way, she phoned Vedavalli and alerted her. Vedavalli and the family were shocked to know this.
In today's episode, it's seen that Sanjay and Vijay get on the top of the bus and Sanjay ties one end of a rope around his hip while Vijay holds the other hand. Sanjay slowly gets under the running van.
After lot of efforts, he successfully fix the brake and saves his family. Vidya also arrives there. Vedavalli and everyone thank Vidya for alerting them about brake failure. Preethi looks unhappy.
Chandramohan says that even God doesn't want Preethi and Sanjay get married, so they're facing obstacles. Vedavalli sister also suggests going back home. However, Vedavalli is admant to go to the temple. Vedavalli decides to take Vidya along with them despite Preethi and her mom's objection.
Stay tuned to this space for the latest updates on your favorite shows.