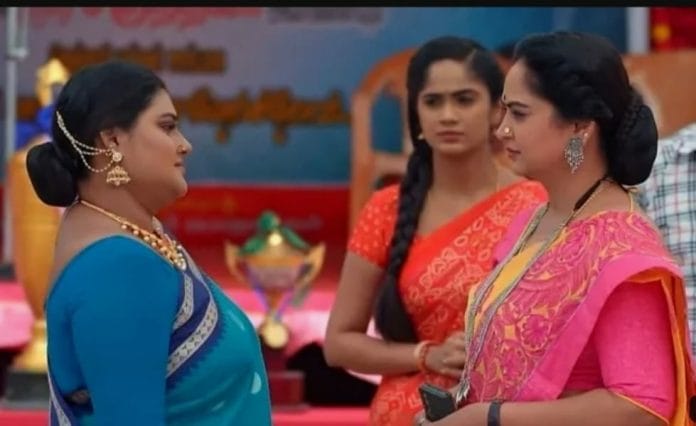 Vidhya No 1 Upcoming Story, Spoilers, Latest Gossip, Future Story, Latest News and Upcoming Twist, on TellyExpress.com
Zee Tamil's popular show, Vidya No1, is gearing up for drama with Sanjay and Vidya saving Vedavalli and the family.
Previously, it was seen that Vedavalli and the family are shocked to learn that the brake of the van in which they were traveling is failed. Sanjay and Vijay got on the top of the bus. Sanjay tied one end of the rope around his hip while Vijay held the other hand.
Sanjay slowly got under the running van. After lot of efforts, he successfully fixed the brake and saved his family. Vidya also arrived there. Vedavalli and everyone thanked Vidya for alerting them about brake failure in right time.
Preethi looked unhappy. Chandramohan said that even God didn't want Preethi and Sanjay get married, so they were facing obstacles. Vedavalli sister also suggested going back home. However, Vedavalli was admant to go to the temple. Vedavalli decided to take Vidya along with them despite Preethi and her mom's objection.
In today's episode, it's seen that Vedavalli and the family reach the village. They meet the villagers. Vedavalli learns that the village's kabaddi team is named after her and the team continuously getting defeated by the another team of their neighbor village in the Kabaddi competition.
Vedavalli who can't accept the defeat of the team with her name decide to conduct the competition. The opposite team's name is named after Shakuntala, so she arrived to that village to support the opposite team of Vedavalli's team.
The opposite team members try to threaten Vedavalli. The latter gives them an apt reply. On the competition day, Vedavalli is shocked to learn that Manasa is playing in her team. She urges Mansa to leave the team.
What will happen now? Will Vidya play in Manasa's place?
Stay tuned to this space for the latest updates on your favorite shows.