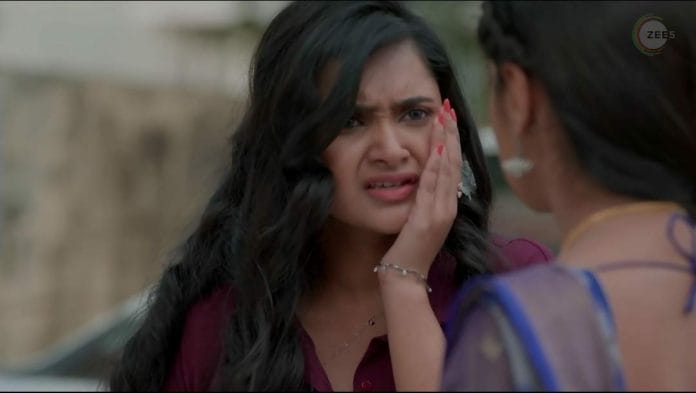 Vidhya No 1 Upcoming Story, Spoilers, Latest Gossip, Future Story, Latest News and Upcoming Twist, on TellyExpress.com

Zee Tamil much loved show Vidya No1 is gearing up for drama with Vedavalli being mad at Sanjay for disobeying her.
Previously it was seen that Vedavalli praised Vidya for winning the case against Ranjith. Vidya said that it was because of Vedavalli she won the case.
Vedavalli said that Vidya's truth helped her to win the case. Vedavalli found that Ranjith's punishment given by the court was less compare to his crime, so he asked Vijay to reopen the case so that he get life sentence for trying to ruin a girl's life. Vedavalli said that she could never forgive those who lie about the marriage.
Vidya, Sanjay and Vijay got tensed hearing this. Vedavalli learned that her business's friend's daughter, Preeti, was arriving from London and sent a voice note to Sanjay to pick her up. Vijay went to receive her in the airport as Sanjay was busy. Preeti refused to go with Vijay and drove off in her friend's car.
In the upcoming episode it will be seen that on her way Preeti will go on the wrong route and will hit Vidya who will be returning home by walk after buying vegetables. Preeti will speak arrongantly refusing to apologize to Vidya for her mistake.
Vidya will teach a good lesson to Preeti. She will slap Preeti multiple times when Preeti will raise her hand to slap Vidya. Preeti will vow to not spare Vidya if she will come cross her.
Later Vedavalli will be furious at Sanjay since he didn't obey to her and went to receive Preeti in the airport. Vidya will get shocked when Preeti will arrive there. Vidya will get scared that Vedavalli will get mad if she learns about her fight with Preeti. So she will hide from Preeti.
What will happen next? Will Preeti see Vidya? Whom Vedavalli will support if she learns about Vidya and Preeti's fight.
Stay connected to this space for latest update of your favorite shows.