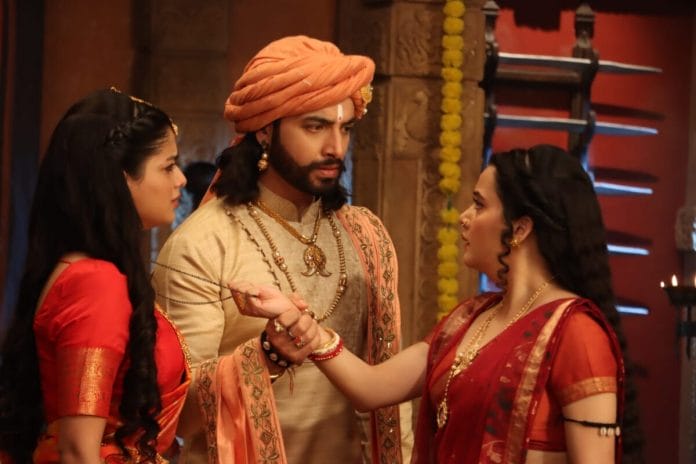 Vidrohi 5th February 2022 Written Update on TellyExpress.com
Episode starts with Kalyani being elated thinking about Baxi and her marriage. She then sees servants taking her things out of her room and gets shocked. She questions them about it, while a maid replies that Radhamani have ordered to shift her belongings to the huge room. Kalyani becomes happy about it and asks the servants to continue their work. She then opens her childhood diary where she have mentioned about her dream husband and starts reading it. She remembers her moments with Baxi and gets shy, while she notices how all the quality matches with Jagabandhu. She also reads about her gift, she wants from her husband.
Here, Baxi smiles hearing Kalyani secretly and gets close to her and whispers her name. She gets shocked and was about to fall, when he saves her. She falls in his arma and they both gets into an eyelock. She scolds him for hearing her secrets, while he ask her to tell about the gift she wants from him. She denies to tell anything and rushes away from there.
The priest came to fix Kalyani and Baxi's marriage. He praises Kalyani's fate and says that she will remove all the problems from her husband's life. She and Baxi smiles looking at each other, while the priest fixes an auspicious date after 3 days. Subarna gets worried about all the work, while Kalyani comes there and tells that Baxi and Kalyani can't meet each other till the marriage. Whereas, the priest asked to keep the bride safe from evil eyes.
Elsewhere, Radha gets teary eyes remembering her marriage with Baxi. She controls her emotions and prepares the guest list for the marriage. At that time Subarna comes there and shows her concern for Radha. She says that Baxi must have done something good to get Radha as his wife. She comforts Radha and leaves from there asking her to be strong and assures that they are always with her.
Subarna hears Radha and Subarna's conversation and becomes mad. She gets inside latter's room and confronts her. She ask Radha not to loose hope and questions that why she is being selfless. She reminds about their plan to be better then Kalyani and wins Baxi's trust by showing her generous nature. She ask Radha not to hurt herself by preparing for the marriage.
Ahead, Radha replies to her mother that a person can do anything for the one who she loves and leaves from there. Meanwhile, Banthara meets Bheem and notify him about the marriage. He gives her an address and ask to send the invitation card to Geoffrey also. She gets shocked and questions about it, to which he replies that Geoffrey will surely stop Baxi and Kalyani's marriage.
Banthara gets scared of sending the letter to Geoffrey, while Bheem encourages him reminding about her daughter's life. Meanwhile, Banthara gets the invitation letter from the servant, but Radha catches her. She confronts her mother and tells that she have already sended the letter to their family and relatives. Banthara lies that she wants to send it to some other relative and goes from there.
Further, Kalyani gets Baxi's letter asking about her childhood dream. At that time Subarna comes there and reminds Kalyani about not meeting Baxi till their marriage. Meanwhile, latter gives a letter to her asking to send it to her father. Subarna suddenly remembers Gadadhar and becomes emotional, while Kalyani consoles her. Later, Baxi meets Kalyani while latter ask him not to see her before marriage.
Baxi questions her about her demand, to which she ask him to bring Gadadhar back. He gets shocked, while Radha hears her demand and denies to bring him back reminding about his crimes. Kalyani says that everyone should get a chance of repentance. Radha stand against Kalyani's wish and reminds them about the rule of not meeting each other before marriage. Baxi states at Kalyani's back and goes away, while Radha thinks that Baxi should have to follow her advice as Gadadhar will surely cause trouble if he returns back.
Precap:- Baxi couldn't able to sleep remembering Kalyani's demand. He visits Bheem and questions him about Gadadhar, to which latter replies that only he can bring Gadadhar back. He demands to free himself and assures that he will send Gadadhar back. Jagabandhu agrees and was about to open the prison, when Radhamani comes there and stops him. Meanwhile, Bheem gets frustrated.
Click to read