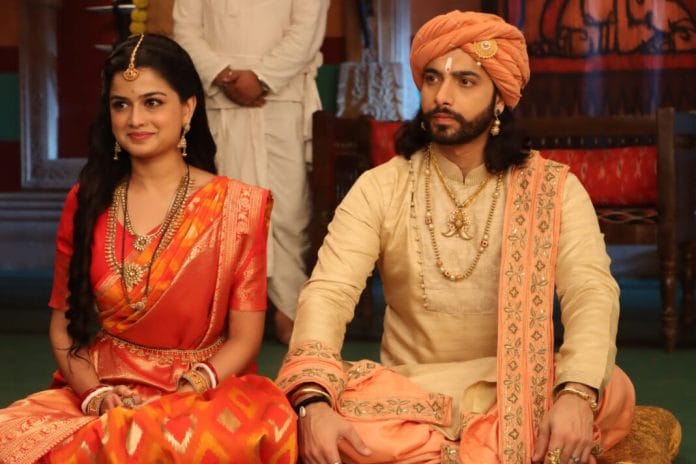 Vidrohi 7th February 2022 Written Update on TellyExpress.com
Episode starts with Baxi thinking about Kalyani's wish and goes out of his room thinking about it. Meanwhile, Radha also wakes up and sees him. She follows him and saw him talking to Amba. She concludes that he is asking about Gadadhar and then follows him towards the prisons. Baxi confronts Bheem and ask him about Gadadhar's whereabouts. Bheem laughs and says that Subarna couldn't able to live without her own son. He says that he knew one or the other day, Subarna will surely able to differentiate between her own blood and adopted son.
Here, Baxi questions Bheem and forces him to tell about Gadadhar so that he can bring him back. But, Bheem tells that he will bring Gadadhar back, as only he knows about his whereabouts. He ask Baxi to free him so that he can send Gadadhar back to the palace, while Baxi hesitates but then agrees thinking about Kalyani's wish.
Baxi takes the key to open the prison, but at that time Radha comes there and stops him. She tells him about what all Gadadhar have done and then notify how he tried to kill Kalyani inside her room. She says that Subarna must not have told all these things to him, but insists him not to bring Gadadhar back. He gets shocked hearing about his brother's deeds and then declares that Gadadhar will never come back inside the palace.
Elsewhere, Baxi leaves from there while Radha thinks that Jagabandhu have changed a lot as he only cares about Kalyani. Where, Kalyani becomes excited after seeing her marriage invitation card. She thinks about how she got married to Baxi and says that she never expected for a day like that. At that time Baxi knocks her door and she stands there, as they aren't allowed to see each other's face.
Baxi apologises to Kalyani stating that he can't fulfill her wish. He questions her that why she have hided from him that Gadadhar tried to kill her? He says that he can't take risk of anyone's life and tells that he can't see his loved ones getting harmed. He ask her to forgive him, but she stays silent. He insists her to say something, but she replies that she always wanted an ideal husband like him only. She praises him while he smiles and then goes away.
Ahead, Kalyani sees the invitation card burning and rushes towards it. She stops the fire and gets concerned. Whereas, Baxi shows his gratitude towards Radha for doing so much for Kalyani and him. She prepares him for the marriage, whereas she cries remembering their vows of marriage that one should never leave other's side. She tells him about it, while he wipes her tears. He sees the bangles which he have gifted to her on their wedding and tries to make her wear it, but she denies making an excuse.
Tilottama taunts Subarna for not inviting Gadadhar. She says that they are including everyone except for her own son. She states that how can they celebrate without their family member? She gets teary eyes and insists Subarna to call Gadadhar, but latter denies telling about all the problems he have caused them. She agrees to welcome him only if he doesn't harm anyone.
Further, Badamba Naresh and his son gets excited to attend Kalyani's marriage. Whereas, a maid comes with milk to bath Kalyani stating that it was sended by Radhamani. But mistakenly Kalyani bumps into the maid and the milk falls from her hand. Kalyani gets worried considering it inauspicious, while Subarna ask her to ignore it. Meanwhile, British soldiers gets inside Badamba Naresh's house and surrounds him, making them shocked. Here, Kalyani gets worried thinking about a the events and then ask Radha's help for deciding the jewelleries to wear.
Precap:- Baxi confronts Kalyani asking about her tension, to which she replies that she feels her father is hiding something from her. She says that when she met him, she felt that he is lying to her about being fine. She insists him to ask about the matter from Badamba Naresh, to which he agrees and goes to talk to his father-in-law.
Click to read