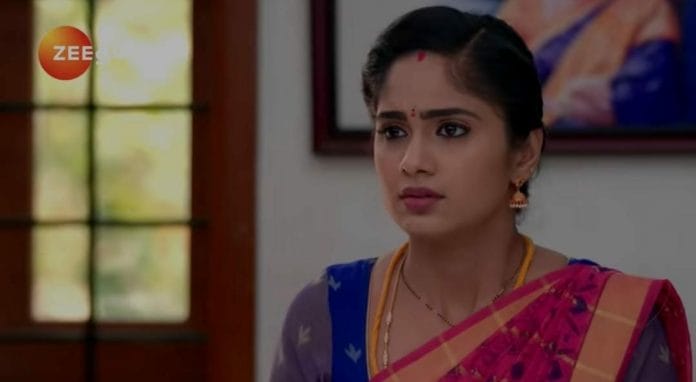 Vidya No 1 Upcoming Story, Spoilers, Latest Gossip, Future Story, Latest News and Upcoming Twist, on TellyExpress.com
Zee Tamil's popular show, Vidya No1, is gearing up for drama with Preethi troubling Vidya.
Previously, it was seen that Sanjay was upset that he and Vidya were forced to stay away from each other despite getting married once again in front of everyone. Vidya joked in order to cheer him up.
Sanjay requested Vidya to sleep with him in the same. Vidya refused and reminded him their promise to Vedavalli. Sanjay said that they had promised not to consummate their wedding till she accepts their wedding and not to sleep in the same room.
Vidya agreed. In the morning, Preethi saw Vidya sleeping in Sanjay's room. She told Vedavalli about it and took her to Sanjay's room. But Vidya had already left the room.
Later, Vidya performed the puja. Preethi provoked Vedavalli against Vidya. Vedavalli threw the puja plate and warned Vidya not to perform puja hereafter as only her daughter-in-law had that rights.
In today's episode, it was seen that Preethi called Vedavalli's friend home and said her to ask Vidya few questions related to medicine field. Vedavalli's friend also obliged. Vidya was unable to answer. Vedavalli's friend questioned of she was really graduated. She left.
Vedavalli grew suspicious and asked Vidya to show her study certificate. Vidya lied that her certificates were in her village. Chandramohan helped Vidya by supporting her. Chandramohan asked Vedavalli to give Vidya a chance to prove herself. Vedavalli agreed and said to Vidya to convince the foreign clients who were going to visit their house the next day else to leave the house.
Vidya accepted the challenge. Sanjay helped Vidya to prepare the presentation. Preethi created obstacle by turning off the main switch box. The family helped Vidya and Sanjay.
What will happen next? Will Vidya win in the challenge given by Vedavalli?
Stay tuned to this space for latest update of your favorite Tamil shows.