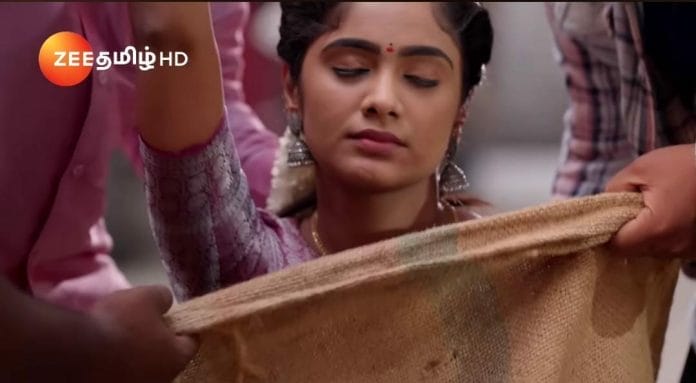 Vidya No 1 Upcoming Story, Spoilers, Latest Gossip, Future Story, Latest News and Upcoming Twist, on TellyExpress.com
Zee Tamil's popular show, Vidya No1, is gearing up for drama with Preethi's dad kidnapping Vidya.
Previously, it was seen that Chandramohan decided to kidnapp Preethi with the help of Vijay and Manasa. He instructed Manasa to spray the chloroform on the pretext of doing her makeup. Manasa hesitated, but Chandramohan convinced to do it.
Later, Manasa went to Preethi. Preethi wa surprised to see Manasa who disliked her and wanted Vidya marry Sanjay. Manasa said that she had to befriend Preethi whose was Vedavalli's favorite and who was going to marry Sanjay. Preethi agreed to Manasa do her makeup. Meanwhile Preethi's father followed Vidya and kidnapped her. He put her inside sack with goons help.
In today's episode, it's seen that Manasa sparys the chloroform on Preethi's face. Preethi faints. Vedavalli arrives to give her old jewellery to Preethi. Vedavalli asks Manasa about Preethi not responding. She's about to check Preethi. She is called by the priest and leaves.
Manasa calls Chnadramohan and Vijay. They all put Preethi in a a sack. Just then, Preethi's mom arrives there calling out to Preethi. Vijay and Chandramohan hide in the bathroom. Manasa manges to divert Preethi's mom and sends her away.
Chnadramohan and Vijay take the sack in which Preethi is to the godown where, Preethi's dad's goons kept the sack in which an unconscious Vidya is. The goons mistakenly transport Preethi from there. Meanwhile, Vedavalli locks Suryaprakash inside a room so that he doesn't do anything to stop the wedding.
What will happen next? Whom will Sanjay marry?
How will Vedavalli react when she learns about Chandramohan's plan?
Stay tuned to this space for latest update of your favorite Tamil shows.