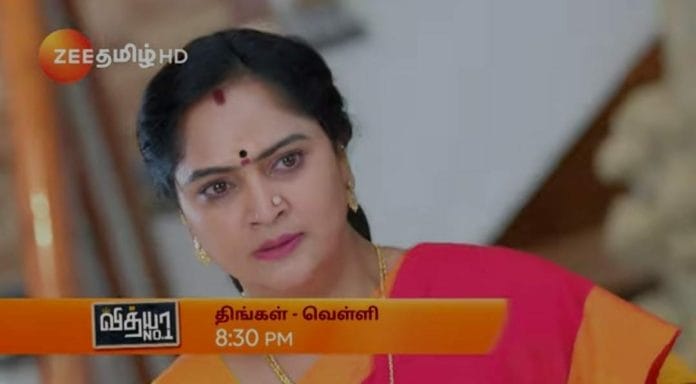 Vidya No 1 Upcoming Story, Spoilers, Latest Gossip, Future Story, Latest News and Upcoming Twist, on TellyExpress.com
Zee Tamil's popular show, Vidya No1, is gearing up for drama with Manasa getting arrested.
Previously, it was seen that Preethi urged Abhishek to tell her if he made Manasa sign an agreement. Abhishek admitted it. Preethi slaps Abhishek. She hatched a plan to divert Vedavalli's attention.
The next morning, Sanjay, Chamdramohan and the family were shocked to see on the TV the news about Abhishek attempting suicide and writing a suicide note in which he had blamed Manasa.
Chandramohan wanted to contact the lawyer to save Manasa, but Vedavalli stopped him. Vedavalli blamed Vidya for Abhishek's action and warned her to stay out of her family matters. However, Vidya met Manasa and Karthi.
She alerted them about Abhishek's action. However, Manasa refused to hide herself for the crime that she hadn't committed. As they were talking, the police arrived there and arrested Manasa.
In today's episode, it's seen that Karthik argues with the inspector about arresting innocent Manasa. The inspector threatens Karthik to get him arrested too. Vidya calms Karthik down. Vidya and Karthik reassure Manasa, who is in the lock up. Vidya promises Manasa to save her.
Preethi phones the inspector to know who has visited Manasa and learns that Vidya visited Manasa. Preethi asks the inspector to click Vidya's photo and to share it with her. As Vidya has already left, the inspector assures Preethi to click Vidya's photo the next time she comes to see Manasa.
Preethi discovers that Vidya helped Manasa and Karthik to get married. Preethi goes to Vedavalli and reveals the same to Vedavalli, who fumes in a rage at hearing this.
What will happen next? What will Vidya and Sanjay do now?
Stay tuned to this space for the latest updates on your favorite shows.