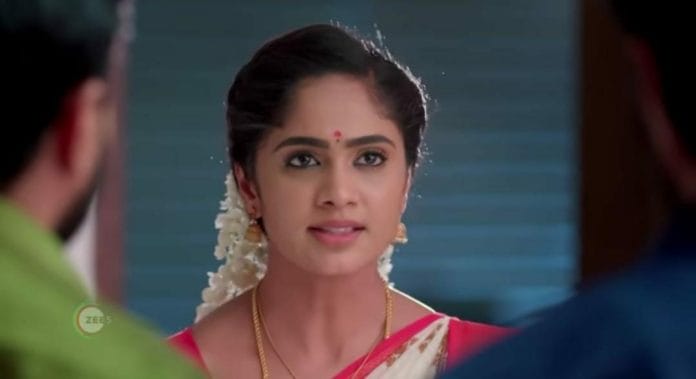 Vidya No 1 Upcoming Story, Spoilers, Latest Gossip, Future Story, Latest News and Upcoming Twist, on TellyExpress.com
Zee Tamil's popular show, Vidya No1 is gearing up for drama with Sanjay and Vijay learning Abhishek's truth.
Previously, it was seen that as Vedavalli was urging Sanjay to marry Preethi, Sanjay decided to tell the truth about his and Vidya's wedding. To everyone's surprise, Preethi refused to get married to Sanjay in this way. She wanted a grand wedding to make everyone forget what Manasa did and make Vedavalli proud.
Vedavalli was impressed with Preethi. She promised Preethi that Sanjay would marry her only. Later Vidya revealed Abhishek's truth to Sanjay and Vijay and Karthik married Manasa to save from committing suicide. A furious Sanjay and Vijay trashed Abhishek.
In today's episode, it was seen that Sanjay and Vijay was beating Abhishek despite Vedavalli trying to stop Sanjay. A furious Vedavalli slapped Sanjay. The latter still continued to trash Abhi. After a lot of difficulty,
Abhishek and Sanjay's family separated Sanjay. Vedavalli asked Sanjay to apologize to Abhishek, but Sanjay refused and blamed Abhishek for Manasa running away from the wedding mandap. He revealed that Abhishek had forced Manasa to sign an agreement.
So, Mansa had attempted suicide, but Karthik had saved her, they got married. Vedavalli was shocked to hear this. However Vedavalli urged Sanjay to apologize to Abhishek and Sanjay obliged without any option. Vedavalli asked Abhishek about forcing Manasa to sign an agreement.
Abhishek lied that he didn't sign any agreement. Vedavalli believed Abhishek and asked Sanjay who had told him this. Sanjay told that Vidya had told him.
Vedavalli slapped Vidya and warned her to stay out of her family matter and threatened to throw her out of the house if she disobeyed her. Vidya and Sanjay were shocked to hear this.
What will happen next?
Can Vidya and Sanjay expose Abhishek's truth?
Stay tuned to this space for the latest updates on your favorite shows.