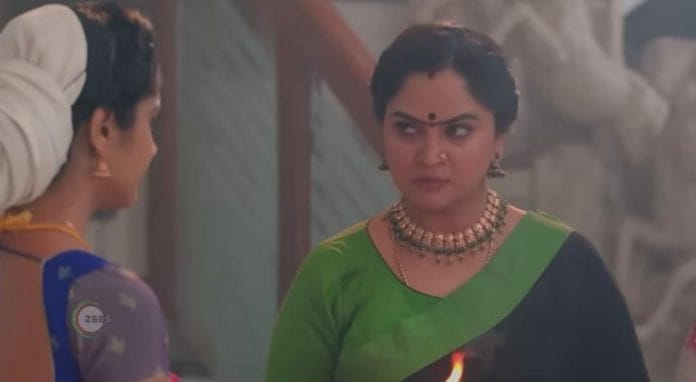 Vidya No 1 Upcoming Story, Spoilers, Latest Gossip, Future Story, Latest News and Upcoming Twist, on TellyExpress.com
Zee Tamil's popular show, Vidya No1, is gearing up for drama with Vidya and Sanjay giving a shocking promise to Vedavalli.
Previously, it was seen that Sanjay and Vijay saw the body and they felt relieved as it wasn't Vedavalli. They searched in the nearby places and spotted Vedavalli sitting on the sand. The family rushed to Vedavalli. They all asked Vedavalli to come to home.
Vedavalli refused to return to Chandramohan's house where sons were living. She complained that there was no respect for her words in that house. Sanjay and Vidya promised to not start their marriage life till Vedavalli accept their marriage shocking Chandramohan.
Vidya asked Vedavalli to give her a chance to prove that she deserves to be her daughter-in-law. Sanjay also agreed with Vidya. Preethi was happy thinking that Vidya who was uneducated could never win Vedavalli's heart.
Later, she taunted Vidya about Vedavalli not accepting her as her daughter-in-law. Vidya gave her an apt reply.
In today's episode, it's seen that Sanjay was upset that he and Vidya were forced to stay away from each other despite getting married once again in front of everyone. Vidya joked in order to cheer him up.
Sanjay requested Vidya to sleep with him in the same. Vidya refused and reminded him their promise to Vedavalli. Sanjay said that they had promised not to consummate their wedding till she accepts their wedding and not to sleep in the same room.
Vidya agreed. In the morning, Preethi saw Vidya sleeping in Sanjay's room. She told Vedavalli about it and took her to Sanjay's room. But Vidya had already left the room.
Later, Vidya performed the puja. Preethi provoked Vedavalli against Vidya. Vedavalli threw the puja plate and warned Vidya not to perform puja hereafter as only her daughter-in-law had that rights.
What will happen next? Will Vedavalli give a chance to Vidya?
Will Vidya be able to prove herself in front of Vedavalli?
Stay tuned to this space for latest update of your favorite Tamil shows.