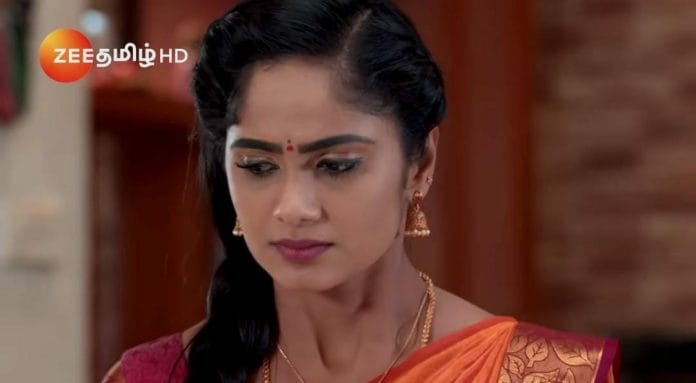 Vidya No 1 Upcoming Story, Spoilers, Latest Gossip, Future Story, Latest News and Upcoming Twist, on TellyExpress.com
Zee Tamil's popular show, Vidya No1, is gearing up for drama with Preethi getting the proof to prove that Vani is Vidya.
Previously, it was seen that Preethi took Abhishek to Vedavalli and asked her to punish him. Sanjay and Vijay trashed Abhishek for trying to ruin Manasa's life and for accusing her falsely. Preethi got Vedavalli's gun and asked Vedavalli to shoot Abhishek. Chandramohan took the gun and shot Abhishek. The latter got shot in his arm.
Preethi apologized to Vedavalli and lied that she wasn't aware of Abhishek's act. She asked Vedavalli not to call off her and Sanjay's wedding because of her brother's mistake. Chandramohan said that Preethi's family was fraud and urged Preethi to get out as Sanjay and Preethi marriage wouldn't take place hereafter.
However Vedavalli stopped Preethi and said that Preethi brought her brother to her instead of running away with him. She was courageous like her. She said that Preethi and Sanjay marriage would happen at any cost.
Later Preethi went to the court and found her phone. The next day Preethi arrived at Vedavalli's house with the Video proof to prove Vani is Vidya in front of Vedavalli.
In today's episode, it's seen that Preethi tells to Vedavalli that Vani is Vidya. Chnadramohan, Sanjay and Vijay deny this. Even Vidya hides her identity and says that she's Vani. Preethi plays the video of Vidya witnessing in the court by calling herself Vidya on the TV screen which shocks everyone.
Vedavalli gets furious and raises her hand to slap Vidya, but Chandramohan holds her hand. He says that whether she's Vidya or Vani, Vedavalli should be thankful to her for saving Manasa. Vedavalli accuses her of ruining Manasa's life. Vedavalli lashes out at Vidya.
She scolds Sanjay too for lying to her. Preethi throws Vidya out of the house. Sanjay decides to tell the truth to Vedavalli and leaves the house with Vidya.
Stay tuned to this space for the latest updates on your favorite shows.