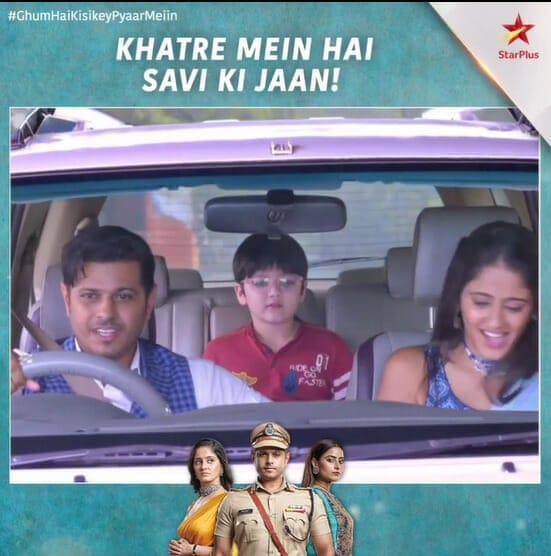 Unexpected twist in Ghum Hai Kisikey Pyaar Meiin. What will be Sai's decision on Pakhi's request?
Ghum Hai Kisikey Pyaar Meiin has always kept its audience on the edge. The show recently witnessed Sai and Virat's reunion unexpectedly. Sai and Virat will soon learn about their kids. Before that Pakhi once again will lay a trap for Sai?
Pakhi will reach out Sai and will make a request to the latter to come back in Virat's life? How is that possible? Well, it is TV daily soap and impossible keeps happening in this dramatic world.
Sai is shocked on Pakhi's request. Show fans are more shocked seeing this upcoming twist clip. They were expecting a new male lead opposite to Sai. Sai has always seen struggling at the Chavan house. Her comeback to Chavan Niwas will surely bring entertainment, only if Sai accepts Pakhi's request.
It will be interesting to watch, what made Pakhi to go to Sai and talk about coming back as former always wanted to be Virat's wife? Pakhi wants to keep Sai closer so that she can check upon SAIRAT? Well, whatever maybe the reason. The upcoming episodes will surely keep everyone on edges.
Ghum Hai KisiKey Pyaar Meiin is earning good ratings. The show is not only one of the top daily but it might take over 'Anupama'. Anupama who is leading daily with 3 TRP has slipped down to 2.8 according to recent data. Ghum Hai Kisikey Pyaar Meiin fetched 2.5 ratings. It is inches close to beat Anupama.
Coming back to the storyline of Ghum Hai Kisikey Pyaar Meiin, fans recently enjoyed Virta's action sequence. He saved Sai from MLA. Virat powerpacked performance for the lady love impressed SAIRAT fans. How duo reconciles is again interesting twist of the show.
Virat and Sai will reunite to save Savi from goons. Sai will request Virat to protect their daughter Savi. Virat will come to know about Savi and will fight with MLA goons to protect both Sai and his daughter. How Pakhi will react on learning about Sai and Savi will be watch worthy.
Tell us if you all are excited for the upcoming twist in the show.
Stay tuned for TV serial news and updates