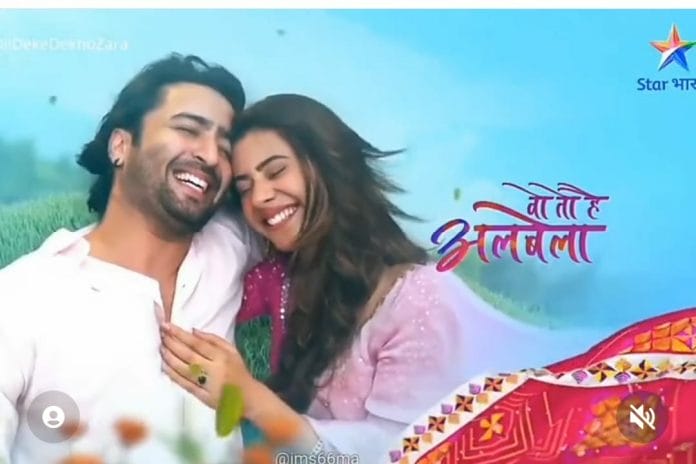 Woh Toh Hai Albela 13th January 2023 Written Update on TellyExpress.com
The episode starts with Vikranth getting shocked to know that she really wants to marry him. Sayuri says that she wanted to marry him and live happily with Kuku and baby. Vikranth is extremely happy to know that she really wants to marry him. He's ready to do anything she ask from him. Sayuri says that she wants to see her baby once and he agrees. He video calls Faiba and asks her to show the baby. Sayuri sees the baby and gets extremely happy. She pacifies the baby when suddenly she hears azaan. Vikranth snatches the phone and leaves.
Sayuri rushes to kitchen and notes in diary about the azaan. She thinks that last time it was train sound and this time it's azaan. She wonders if he shifted the place or both are in the same place. She speaks with her baby in mind and says that she's acting the wedding drama only to Bring her as she only loves Kanha. She feels bad for her behaviour towards Kanha but thinks that it's necessary. She dreams of Kanha holding their baby and gets emotional. She too joins the two in her dream. She calls Kuku and asks her to explain her drawing while she switches on the TV and Kuku agrees. They both leave.
Kanha is in car and is extremely heartbroken. He thinks that he's just increasing problems for you Sayuri by continuously visiting her and decides to not visit her anymore. He says that no matter if she's Sayuri or Sanchi he don't want to disturb someone who's happy with the other person. Yash sees Kanha shattered and asks what happened.
Kanha says about Sayuri planning to marry Vikranth and says that he don't want to disturb her anymore. He says that he's just increasing problems for her and wants only her happiness. Yash asks Kanha not to think so as Sayuri would be in some difficult situation that she spoke with her him that way. He asks him to not give up so easily without knowing full details. Just then servant comes there and says that someone has come to meet Kanha. They go outside to check and gets shocked seeing Vikranth.
Kanha asks what's he doing there and Vikranth asks whether only he has the right to enter his house without his permission. He says his wife doesn't hide anything from him and she would've told about their upcoming wedding. Vikranth says that he wants to mend their relationship which is why he's there now. He says that he wants to invite him for his wedding as he knows no one in this place except him. He says that they want to forget their differences and should come together to enjoy the wedding.
He also asks him about his wife leaving him and calls her unlucky to leave someone who loves her so much. He asks him to move on as she too would have done the same. Rashmi sees Vikranth and gets shocked. She decides to not leave him now. Once Vikranth leaves Kanha and Yash comes in. Rashmi is about to follow Vikranth when Kusum stops her and apologizes for her early behaviour. Rashmi pays no heed to her words and insults her saying that she has no time for the discussion and leaves in car. She follows Vikranth making sure he doesn't disappear from her sight.
Precap : Vikranth will ask Sayuri if she's ready for the wedding and Sayuri will say yes. He will say that next day is their marriage. Kanha will decide to not let Sayuri marry Vikranth as she's his wife. Rashmi will come to Sayuri's House and will see Vikranth with Sayuri and gets shocked.
Click to read