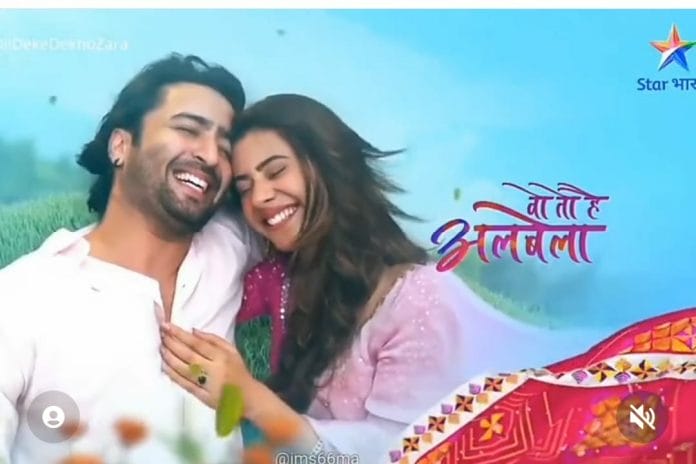 Woh Toh Hai Albela 14th January 2023 Written Update on TellyExpress.com
Episode begins with Yash stopping Kanha. Yash asks Kanha not to be disheartened. Kanha says I feel like nothing will work, I will go to talk to Sayuri. Yash says I will also accompany you as I feel god has given us a second chance and I want to use it fully. Kanha smiles. Just then Kusum comes and is upset. Kusum says something has happened to Rashmi, she talked rudely to you yesterday and today when I said sorry to her she got upset with me and misbehaved. Kusum says Rashmi has always been like this she talked so rudely with Sayuri too so now it's high time we teach her a lesson, now I won't handle her rudeness, I want to teach her a lesson this time I won't forgive her this easily, this time she will see my anger. Yash and Kanha look at each other.
Here, Sayuri thinks Kuku got scared seeing that door, I need to find out the reason. Sayuri asks Kuku that she can share everything with me. Sayuri then shows the lady pictures she drew and asks Kuku about it. Kuku remembers a girl lying dead in that room and she worries. Sayuri hugs Kuku to comfort her. Here, Vikrant is walking towards his home when Rashmi follows him without letting him know. Vikrant reaches home, he goes to Kuku and Sayuri. Sayuri sees the sketch so she hides it with a sketch book and says Kuku always keep things messy here, we were just talking about you how we both are connected to you. Vikrant says great, I was out doing some arrangements for the special day tomorrow. Sayuri says I will make tea. Vikrant says a little extra adrak. Sayuri agrees. Later, Sayuri comes to give tea to Vikrant.
Rashmi looks at them from a window but she is unable to see Sayuri's face. Vikrant and Sayuri talk where Sayuri asks Vikrant to consult a good doctor for Kuku. Vikrant says why am I not a good doctor? Sayuri says not like that, I was thinking like a specialist. Vikrant says let me think about it, it's good to see you are thinking about his family. Sayuri says I truely feel for the family. Vikrant says I am happy for us deciding marriage date tomorrow, there is a surprise for you and take this and wear it for tomorrow. Sayuri says god will surely help us.
Sayuri turns and Rashmi sees her face. Rashmi gets shocked and panics thinking if it is really Sayuri or someone else as she has the same face and eyes. Rashmi thinks if she is Sayuri then why she is not coming back and if she plans to come back my every nightmare will come true and I will loose everything. Kuku sees Rashmi and tries to tell Sayuri but Rashmi hides so Sayuri is unable to see her. Later, Kanha is sitting alone in his room when Yash comes and says don't get disheartned, I have an idea, nowadays everyone has their ids so let's see if Vikrant has ids of Satchi for everything or not. Just then they hear noises so they go to see Saroj listening to Kusum's allegations against Rashmi. Saroj scolds Rashmi and asks Rashmi to apologise to Kusum and Yash. Rashmi tries to explain her actions but Saroj and Kusum are stubborn. Yash also asks for the matter to to go but Kusum says just because we are daughter and son in law and we live here, she can't behave like this. Nakul comes and fights for Rashmi, he says when Yash says it's not a big thing then why is Rashmi asked to apologise? She won't apologise as every time Saroj just sees Rashmi's fault. Nakul shocks everyone by talking rudely with Saroj and Kanha. Nakul goes taking Rashmi. Rashmi gets happy.
Episode ends.
Precap – Kanha comes to the temple. Vikrant tells Sayuri how he invited Kanha for their special day to see his heart break. Sayuri gets sad and hurt.
Click to read