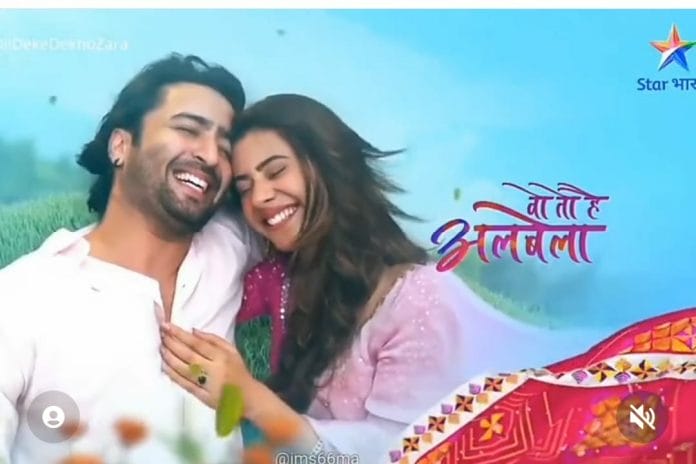 Woh Toh Hai Albela 16th September 2022 Written Update on TellyExpress.com
The episode starts with Saroj giving explanation for choosing Rashmi over Sayuri for housework. Kanha who witnessed it all came to Sayuri and told that her business idea has gained them crore and gave all the credits to her. The guests praised Sayuri and says Saroj that she was lucky yo hand sick good daughters in law. Kanha says be the to work or house hold works while yurt. Saroj is angry about what Kanha did. A servant came and informed Saroj about groom's family there to see Kusum.
Saroj hurriedly comes to them and meets with them. She praises Kusum and asks Rashmi to bring Kusum. Kusum is with Sayuri and Kanha for Kusum's admission and is very excited for her admission. Saroj comes to Rashmi who says that Kusum is not at home and has gone for college admission. Saroj says that she would never forgive Sayuri if the alliance gets cancelled. Kusum gets Saroj's call but Kanha asks her to not pickup. He knew that she would make issue. Kusum falls down and gets hurt and they all go to spend some time together.
Nakul and Rashmi tried calling Kusum but in vain. Rashmi blamed Sayuri for the mess. Saroj lies to the guests that Kusum has gone to parlour and will be on her way. Sayuri, Kanha and Kusum were chit chatting on their way home. Guests gets irritated that Kusum is taking time to come despite knowing that they are waiting. Saroj had no answers. That's when Kanha, Sayuri and Kusum enters smiling and gets shocked seeing guests. Kanha reveals the truth that they went for Kusum's admission and didn't knew about their arrival. He apologizes to them. Guests asks Saroj that she lied that her daughter went for parlour but Kanha is saying another story. Saroj gets embarrassed.
Precap : Kanha will ask the guests about groom. They will say that he's in US and will come at the time of marriage. Kanha will ask whether Kusum will go abroad after marriage but Groom's family will say that she'll stay with her them after marriage and only he'll go abroad. Kanha will get irked and will ask them to say clear that they need a servant to take care of them. Sayuri will ask Kusum to think carefully whether the alliance is good when Rashmi will accuse her for trying to manipulate Kusum.
.
The episode starts with Kanha thanking Sayuri. Sayuri says that the one who fulfills everyone's dreams should also fulfill his own dream. Kanha says that he's not sure what topic he should use and Sayuri asks him to work on it. She gets down the car and starts walking when suddenly she feels dizzy.
Saroj says Nakul that it's not wrong to trust his brother and sister in law but asks him to find a way to earn his own too. He says once he gets married Rashmi wouldn't like to live on his brother's earning and would wish that her husband earns and spends on her too. She asks him to think about it while Nakul gets into thinking. Saroj faints and her colleagues help her. They suggest to call Kanha but Sayuri asks them not to as he has important meeting. She decides to consult doctor herself if needed.
Dhanraj is on call when Saroj comes there. She happily says that a good alliance came for Kusum. She says that there is another thing which is that they have their own business and that could help them with their business. Dhanraj looks weird at her when Saroj asks if he's thinking that Kusum is her step daughter and so using her to get business for own benefits.
Click to read