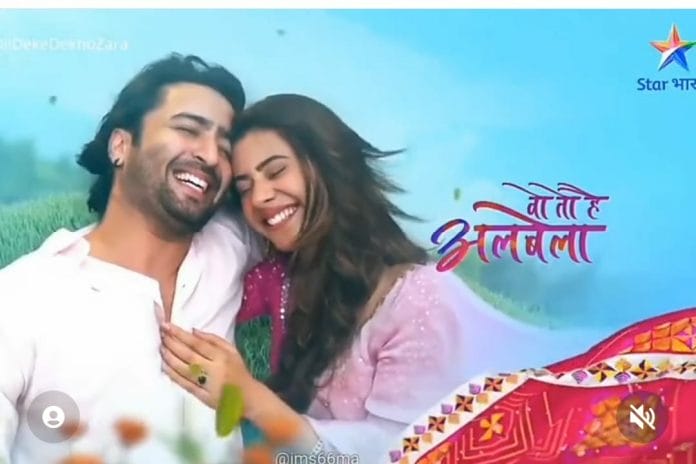 Woh Toh Hai Albela 19th January 2023 Written Update on TellyExpress.com
The episode starts with Sayuri acting like she doesn't know Rashmi and that asks if she's fine. Rashmi keeps looking at her with horror and Sayuri asks what happened. Rashmi says that she looks familiar and so was thinking about it. Sayuri says that she shifted to the place only four months back and there is no way she could identify her. She takes her leave.
Rashmi thinks that if it's really Sayuri or not. Sayuri thinks in her mind that she's aware that Rashmi would be at the back of her but it's not the the right time to confront her. She decides to expose her when the time is right and swears to not leave her. Yash keeps calling Kanha but he doesn't pick up the call. He decides to say it personally to Kanha and leaves immediately. Kanha comes home with an absent mind and Saroj notices that he's about to step on the rangoli. She alerts him on time and asks where was his thoughts.
Kanha says that he's fine but Saroj catches his lie. Kanha says that he went to temple where he bumped with Nakul. He says that he behaved badly with him. Saroj says don't know what happened that both her sons who were like Ram and Lakshman have turned this way. Kanha leaves asking when everything would get fine. Saroj has the same questions but no answer. She prats God to give back the love between both the brothers.
Nakul is fuming thinking about Kanha's words. Vikranth asks Pandit for their future. Rashmi is searching for Sayuri and cuts Nakul's call. Pandit says that there doesn't seem to have any happiness in their married life. Vikranth says he can write his own fate and threatens him to find a solution for it. Pandit gets scared and agrees to get them protection thread for marriage. Vikranth leaves to attend a call when Rashmi comes there. She decides to find the truth if she's really Sayuri or not. She says to Pandit that she's searching for a good bride for her her brother in law. Pandit asks about her sister and Rashmi says that she's gone. Sayuri has a hard time to act normal in front of her.
Rashmi asks him to find a suitable match for brother in law and says her expectations. She says that he got so alone after her sister's death and recently agreed to marry again. Pandit asks her to give his birth horoscope to find a prospective match. Vikranth also comes there and leaves with Sanchi and Kuku taking the protection thread from Pandit. Rashmi is relieved that she's not Sayuri but wonders why they are checking for marriage date. She reaches Nakul and lies that there was big crowd which is why she couldn't pick his call. They both leave.
Yash is upset that Kanha is neither picking the call nor call back. He decides to reach home and meet with Kanha. Kusum calls Yash to ask about his whereabouts. Yash says he's leaving home to meet Kanha. Kusum says that he don't want to go there until Rashmi apologizes him. She asks him to call Kanha to their place but Yash says he's not picking up the call. Kusum forbids him from going there at any cost and Yash agrees. He apologizes Kusum in mind for lying to her.
Sayuri and Vikranth come home and Vikranth is very happy over the upcoming marriage. He tries to get romantic with Sayuri but Sayuri moves away making Kusum as excuse. He warns her to not betray him as he's trusting her. Sayuri asks him not to talk like that and takes her leave. Sayuri is thinking about Vikranth and Rashmi's words and gets worried. She speaks to Kanha in mind to hold on for a a few more while and she would come to him soon. Kanha is also in pain and imagines Sayuri with him. He gets pained knowing that it's his dream when he's about to hold her.
Precap : Kanha will make Sayuri swear on him that she's Sanchi and not Sayuri. Sayuri will struggle to answer. She will be about to confess about their child when Vikranth will come there shocking them.
Click to read