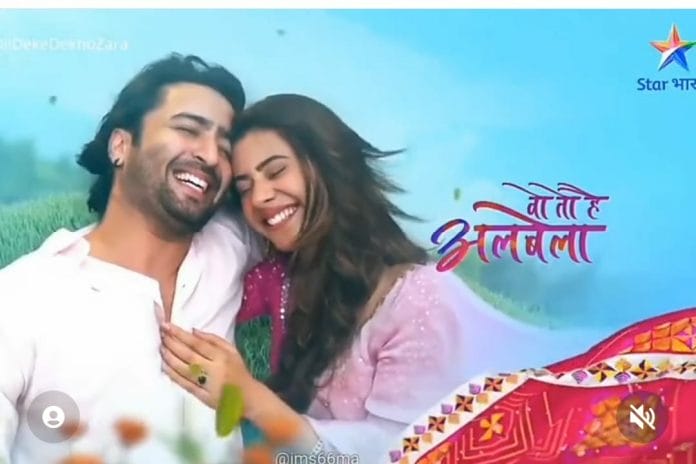 Woh Toh Hai Albela 20th January 2023 Written Update on TellyExpress.com
The episode starts with Saroj worried when Rashmi comes there. Saroj asks about Nakul and she says that he has gone to office. She asks the reason for her tension. Saroj says that before the brothers were ready to give life for each other and doesn't know what happened suddenly. She says that they were real close but now they are like sworn enemies. She says that Nakul fought with Kanha in temple and she feels bad about it.
Rashmi says that not only Nakul, Kanha also said so much to Nakul but she didn't interfere in brother's fight. Saroj pleads her to make Nakul understand so that they become one again. Rashmi says that she will try her best to get them united. Once Saroj leaves, she asks how come she would let Nakul get united with person because of whom he ignored her. She says she will continue separating them like she did all this while.
Rashmi's baby is crying when Rashmi comes there. Indrani asks Rashmi to feed the baby who's crying but Rashmi gets irritated. She lashes out at her for not asking servants to get the milk. She continues shouting over how she's stressed about Sayu di when Dadi Mausi comes there and asks what about Sayuri.
Rashmi handles the the situation lying that she is frustrated that she tries so hard to manage things like Sayuri but she couldn't do well like her. Indrani asks why is she saying so as she's doing best in her own way. Rashmi acts in front of Dadi Mausi while smirking from aside. Yash comes to Kanha saying that they can still do something about Sayuri. Kanha asks what more could they do as Sayuri is already married to Vikranth. Yash says that Sayuri is not married yet and says she postponed the wedding for seven days. Kanha asks what's the reason that she's couldn't say it to them. Yash believes that there is definitely some big reason behind Sayuri's actions and they must find it.
Sayuri is noting down in her diary and thinks to stop the wedding at any cost. She's thinking about it when Kanha comes there. Sayuri acts angry at him asking him to leave but Kanha says that he knew that she postponed the wedding as she didn't want to marry him and forcefully asks her to swear on him that she's not Sayuri. Sayuri says that she can't do that as she's already bound to another promise on God. Kanha asks what promise and confronts her that if she's not Sayuri. Sayuri agrees that she's his Sayuri but she can't come with him. She is about to say about the baby when Vikranth comes there saying that he killed the person as she broke her promise.
Kanha confronts him who's the person and Vikranth says it's his and Sayuri's daughter. Sayuri wakes up from her nightmare terrified and realizes that everything is a dream. Kanha finds Yash early morning. He says that he has decided to watch Vikranth 24x 7 to find atleast a single clue that could reveal the big reason. Kanha hugs him with gratitude and Nakul sees it and burns in jealous. While getting down from stairs, Nakul falls down. Kanha and Yash rush to help him but Nakul pushes Yash away shocking everyone.
Precap : Kanha will wait for Sayuri to come outside so that he can speak with her. Vikranth will forbid Sayuri from going outside till the wedding is done. Yash will be filming Vikranth's activities in secret.
Click to read