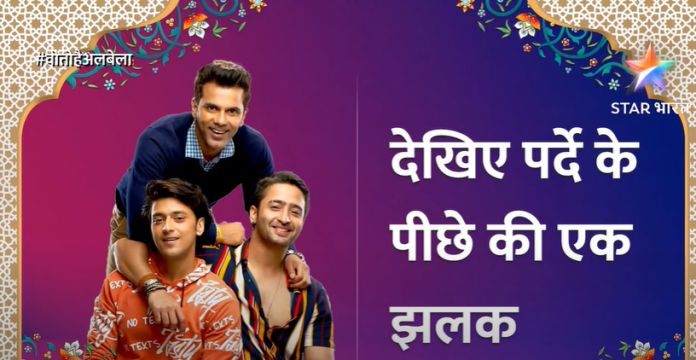 Woh Toh Hai Albela 22nd June 2022 Written Update on TellyExpress.com
The episode starts with Host of the party calls the guests for a couple game called Know your partner. He invites the couple. Anjali says they can go but Kanha says it's couple game. Nakul urges him to go too. The first couple is Kanha and Sayuri. Anjali is excited to watch them lose. Host asks Sayuri's favourite food and Kanha answers Guava.
The next question for Sayuri is Kanha's favourite sweet. Anjali predicts it as peda but Sayuri says jalebi which turns out to be the right answer. The final question for Kanha is Sayuri's favourite drink and Kanha answers chocolate milkshake. The host praises their couple and gifts them a gift hamper. Anjali decides to do anything to bring Kanha to her side.
Anjali comes to Sayuri and taunts her. Sayuri tries explaining but Anjali insults her. She calls Sayuri shrewd. Sayuri warns her to not misunderstand as she came there ply as Kanha's friend. She says she never tried to come between her relationship with Kanha but Anjali doesn't believe. Sayuri tries explaining Anjali that they have good friendship but Sayuri doesn't want to listen and continues accusing Sayuri and leaves angrily.
Saroj is fuming at Sharmas. Kusum asks her to have something as she might really fall sick. Saroj fumes that Sayuri is getting between Kanha and Anjali. Kusum says that Anjali is smart enough to snatch Kanha from Sayuri and asks her to not worry. Saroj wishes it's true. Kanha saves Sayuri before she slips and Anjali fumes. The Host announces a couple dance and anyone from friends to couples and siblings can join the dance.
Anjali asks Kavya to John join her in dance as friend. Kanha tries refusing but Sayuri asks him to go with Anjali. Kanha agrees and leaves and both starts dancing. Nakul also dances with Rashmi. They both make Anjali lose and Sayuri takes her position. Kanha and Sayuri dances mesmerising while Anjali fumes. They end the dance and emerge out as winners.
In their last pose Kanha comes very close to Sayuri. They both stay in the position lost and Anjali claps the hand to make them come out of their trance. Sayuri is about move but her bracelet gets stuck with Kanha. Anjali angrily comes to washroom and is venting out her frustration on Sayuri. She decided to do something against her.
Anjali spikes Sayuri's drink in order to make her confess that there's nothing between her and Kanha. Anjali praises Sayuri and their dance. She gives her the spiked juice and Sayuri is about to have it but Kanha stops her. He says she doesn't like orange juice and exchanges it with his.
Sayuri drinks the normal juice while Kanha drinks the spiked one. Anjali waits for Kanha's reaction to take advantage of him. Nakul and Rashmi suggests to go home as Rashmi has work. Sayuri says that she would also join and asks Kanha to stay and enjoy the party for some more time. Kanha says that he don't want to be alone and wants to go with them too. Anjali can't wait for Sayuri to leave so that she can spend some time with Kanha.
Precap : Sayuri will be driving the car with drink Kanha. Kanha will blabber in his intoxicated state about his feelings for Sayuri. Saroj will be worried that why they haven't returned.
Click to read