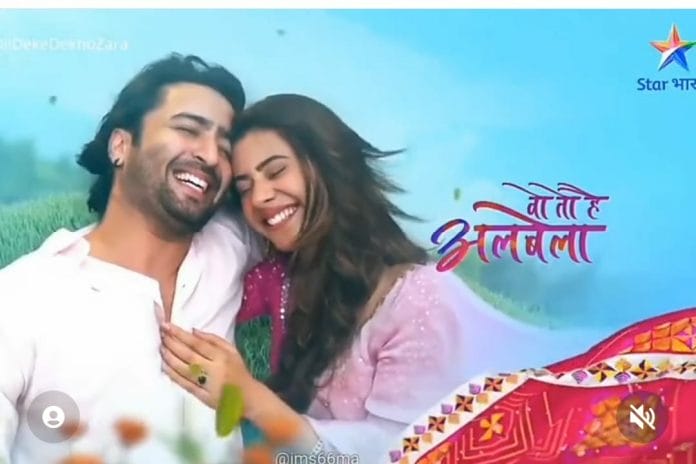 Woh Toh Hai Albela 23rd January 2023 Written Update on TellyExpress.com
The episode starts with Vikranth leaving without seeing Yash. Yash suggests Kanha to replace the lady tailor by paying her. Rashmi is shocked seeing Sayuri's picture and wonders if its not Sayuri why is Kanha at the back of her. Her baby is crying but she didn't mind it. Indrani lashes out at Rashmi for not caring about about baby and immersed in phone. Rashmi drops the phone and scolds Indrani back. She says she's already tensed and asks her not to add more. She asks her to take away the baby with her and Indrani asks what happened to her. She's about to take the phone but Rashmi takes it before her. Indrani leaves worried while Rashmi thinks that it's not Sayuri but Sanchi and it happens at times. She thinks that she can't waste time in all this and concentrate on family.
The tailor lady identifies Kanha as albela Kanha and can't stop praising him as she's his fan. She says she's ready to help but also confirms whether her job would be at stake. Kanha assures her that nothing would go wrong and asks her to trust him.
The lady tailor visits Vikranth's house and Vikranth asks if she's the one sent by Khan Botique. She nods yes and Vikranth gets doubtful. He asks her to go and send someone without hijab as he doesn't know whether it's a man or woman hiding under it nor he could lift up the hijab to find it. Rashmi holds rice in her hand and says Saroj that she would fifill the duties Kanha gave to her with utmost respect and promisee to find a good bride for Kanha. Saroj gets happy hearing it while Dadi Mausi is still doubtful of her. She wonders if she's poison or sweet. Rashmi leaves while thinking that she would get a girl who would just nod to her saying and makes Sayuri out of Kanha's mind.
By mistake fan gets switched off and the lady's face gets exposed. Vikranth finds that its a girl and agrees to let her in. He turns around to call Sayuri when Kanha replaces the lady tailor. He let's her in and introduces her to Sayuri. Sayuri takes him in and by mistake he falls down. His face gets revealed while Sayuri gets shocked seeing Kanha. Vikranth is about to help him when Sayuri stops him saying that she may not like him seeing her face.
Vikranth asks her to check then. Sayuri herself covers his face when Vikranth gets old lady's call. She says that the baby's condition is very bad and is continuously crying. She asks him to come there as if anything happened to the baby then the girl would go out of their hand. Vikranth leaves and Yash follows him. As soon as he leaves, Kanha is about to lift up the veil but Sayuri keeps stopping him acting all excited about her wedding dress. She doesn't let him speak and keeps ranting confusing Kanha. Vikranth is watching it all through camera and thinks Sayuri is very excited for the wedding. Just then he sees the tailor's shoes and wonders if he's getting cheated. He turns his car back to the house and Yash gets worried.
Precap : Kanha will be taking Sayuri's measurements when Vikranth will come there. Yash will be worried why Kanha isn't picking his call. Vikrsnt will come home and asks why she's wearing gents shoe.
Click to read